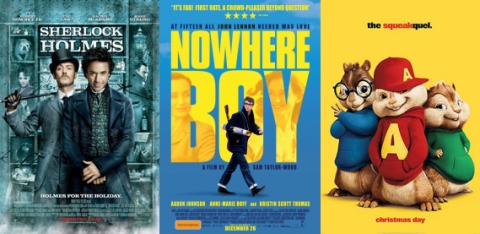 [ad]
NATIONAL RELEASES
Sherlock Holmes (Warner Bros.): After the copyright expired on the famous detective, Hollywood studios scrambled to make a big screen adaptation and this version sees Holmes (Robert Downey Jr.) and his stalwart partner Watson (Jude Law) engage in a battle of wits and brawn with a nemesis (Mark Strong) whose has a fiendish plot.
Although the words 'directed by Guy Ritchie' can strike fear into the heart of any self-respecting film lover, box office prospects for this look pretty good, despite competition from Avatar and mixed reviews. [Nationwide / 12A]
Nowhere Boy (Icon): The feature film debut of artist Sam Taylor Wood explores the teenage years of John Lennon (Aaron Johnson) and how they laid the groundwork for his future career as one of The Beatles.
Although by no means flawless, the film does a good job of laying out the drama in Lennon's early life and Johnson does a decent job filling the daunting shoes of Lennon. Supporting performances (especially Kristin Scott-Thomas and Anne Marie-Duff) are very good and the period detail is nicely evoked. [Nationwide / 15]
Alvin & The Chipmunks: The Squeakuel (20th Century Fox): The sequel to the 2007 live-action/CGI comedy and featurs the voices of Zachary Levi, David Cross, Wendie Malick, and Jason Lee. This film features Alvin and the Chipmunks and their female counterparts, The Chipettes.
Directed by Betty Thomas, it should take a healthy bite out of the Christmas box office as it was released a few days ago and is one of the most family friendly films on release. [Nationwide / PG]
[ad]
ALSO OUT
My Father My Lord (Artificial Eye): A belated UK release for this 2007 Israeli film about a rabbi, his wife and their child. Directed by David Volach, it stars Nitsam Bar, Assi Dayan and IIan Griff. [Renoir & selected Key Cities / PG]
The Queen Of Spades (Optimum Releasing/ICO): A digital reissue for this classic supernatural drama directed by Thorold Dickinson (best known for directing Gaslight). Not seen in British cinemas since its original release in 1949, it is a theatrical taster for its release on DVD in the new year. [Curzon Mayfair, Phoenix East Finchley & Key Cities / PG]
Dogging: A Love Story (Vertigo Films): A British drama about Geordies having anonymous sex in car parks. Directed by Simon Ellis, it stars Luke Treadaway and Kate Heppell.  [Key Cities / 18]
3 Idiots (Reliance MediaWorks): An Indian Bollywood film directed by Rajkumar Hirani, starring Aamir Khan, R. Madhavan, Sharman Joshi, Kareena Kapoor, and Boman Irani. Intriguingly it will also get released on YouTube three months after its theatrical release. [Cineworlds Feltham, Shaftesbury Ave, Vue G / 12A]
> Get local cinema showtimes for your area via Google Movies
> UK cinema releases for December 2009
> UK DVD & Blu-ray picks for 2009