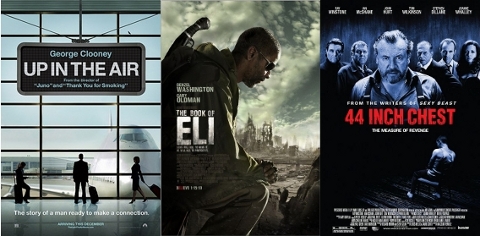 [ad]
NATIONAL RELEASES
Up In The Air (Paramount): A comedy-drama about a corporate downsizer (George Clooney) who spends his life flying around the US firing people in a smooth and efficient manner. Free of human relationships, he has become attached to frequent flyer miles, a commitment-free relationship with a fellow air mile addict (Vera Farmiga) and the buzz of living out of a suitcase. But when his boss (Jason Bateman) partners him with a new recruit (Anna Kendrick) who advocates firing people via video-link, things begin to change.
Directed by Jason Reitman, it is a smart, funny and thoughtful adaptation of Walter Kim's 2001 novel that explores the current recession, relationships and travel. Intelligently written and slickly directed, it features a marvellous central performance from Clooney, who peppers his role with just the right amounts of charm, wit and emotion. Farmiga and Kendrick also provide excellent support and it will be a strong contender at this year's Oscars. Paramount can expect solid business after positive word of mouth. [Nationwide / 15]
* Read my full review here and listen to my interview with Anna Kenrick *
The Book of Eli (Entertainment): A post-apocalyptic drama in which a lone man (Denzel Washington) fights his way across America in order to protect a sacred book that holds the secrets to saving humankind. Directed by The Hughes Brothers, this is their first film since From Hell (2001) and looks like The Road meets Man on Fire.
The buzz on this one isn't great and a decent opening might be followed by a swift tail off in interest. [Nationwide / 15]
44 Inch Chest (Momentum Pictures): A British drama about a jealous husband (Ray Winstone) who plots the kidnapping of his wife's lover with the intention of restoring his wounded ego.
An impressive UK cast, plus a script by the writers of Sexy Beast (although not, significantly, the director Jonathan Glazer) could see this do moderate business although – like a lot of British films – it has the whiff of something made for TV. [Nationwide / 15]
All About Steve (20th Century Fox): A romantic comedy about an eccentric crossword puzzler (Sandra Bullock) who, convinced that a CNN cameraman (Bradley Cooper) is her true love, trails him as he travels all over the country.
After some of the worst reviews in living memory for a mainstream release, Fox appear to be giving this one a quiet death by dumping it in early January. [Nationwide / 12A]
[ad]
ALSO OUT
Still Walking (New Wave Films): A Japanese drama about a retired doctor (Yoshio Harada) who lives by the seaside with his elderly wife hosting a visit for his two grownup, married children. Directed by Hirokazu Kore-eda.
Crude (Dogwoof): A documentary directed by Joe Berlinger following the progress of a $27 billion case against the Chevron Corporation, a case also known as the "Amazon Chernobyl".
> Check out all the UK cinema releases for January 2010
> Get local cinema showtimes for your area via Google Movies