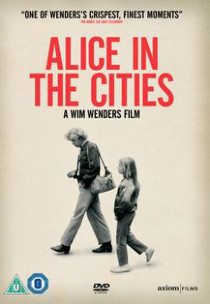 German director Wim Wenders is perhaps best known for his acclaimed films in the 1980s such as Paris, Texas, and Wings of Desire.
Back in the early 1970s he was part of a group of directors such as Rainer Werner Fassbinder, Werner Herzog and Volker Schlöndorff, who were bracketed under the banner of the 'New German Cinema'.
One of his most notable earlier films is Alice in the Cities (1974), a thoughtful and poignant road movie about a journalist named Philip Winter (Rüdiger Vogler) who ends up trying to help a little girl (Yella Rottländer) find her grandmother.
The film starts with Winter on an assignment in the US but he finds the experience dispiriting and ends up with a bout of writer's block, only finding solace in taking polaroid photos.
When he decides to go home to Germany, a plane strike delays his flight and he meets up with a German woman and her daughter Alice (Rottlander), who are also stuck until normal service is resumed.
When Alice's mother misses the flight and fails to appear in Amsterdam as planned, Winter finds himself responsible for the young girl and they both travel across Europe, trying to find Alice's grandmother.
Driven by the charming chemistry between Vogler and Rottlander, it has a pleasingly meandering narrative and is free of the twee life lessons and sentimentality that could have crept in.
Shot in grainy black and white on 16mm by Wenders's regular cinematographer Robby Muller, it is a captivating work that establishes themes which would surface in Wenders' later films: alienation, lonlieness and a fascination with America.
The DVD has some solid extras which include:
An exclusive interview with Wim Wenders by Mark Cousins
Rare interviews with stars Rüdiger Vogler and Yella Rottländer
A collectors booklet and photo galleries.
Alice and the Cities is out now on DVD from Axiom Films
> Buy the DVD from Amazon UK
> IMDb entry
> Find out more about Alice and the Cities at Wim Wenders official site
> An essay on Wim Wenders at Senses of Cinema