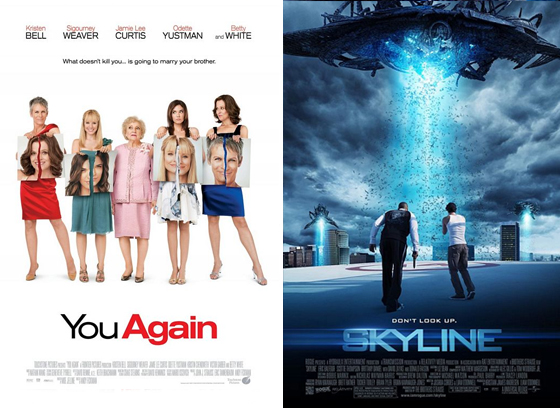 NATIONAL RELEASES
You Again (Walt Disney): A comedy about what happens when a young woman (Kristin Bell) realizes her brother (James Wolk) is about to marry the girl who bullied her in high school (Odette Yustman) and sets out to expose the fiancée's true colours. The plot thickens when her mother Gail (Jamie Lee Curtis) meets up with Joanna's aunt Ramona (Sigourney Weaver), a woman who Gail has her own history with.
Aimed squarely at undiscerning female audiences, this critically reviled comedy will hope to make as much money as it can before the Harry Potter juggernaught arrives next week. [Empire Leicester Square & Nationwide / U]
Skyline (Paramount/Momentum): An alien invasion film about a group of friends in Los Angeles who discover that extraterrestrial forces are threatening the human race.
A low budget sci-fi film designed to look like a more expensive one, it is directed and produced by the Brothers Strause (the team behind Aliens Vs Predators: Requiem) and with its largely unknown cast seems like a low rent Cloverfield.
However, if it is as cheaply made as the filmmakers claim then distributors around the world make a nice profit. Unless it's completely awful. [Cineworld Shaftesbury Ave., Vue West End & Nationwide / 15]
ALSO OUT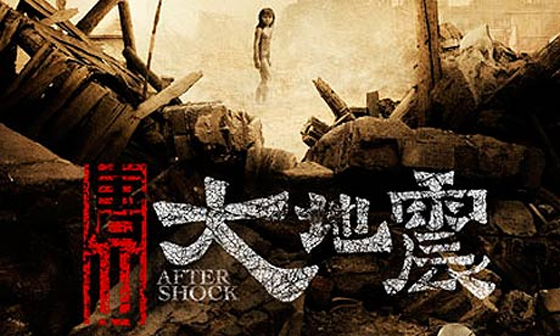 Aftershock (Metrodome Distribution): A Chinese epic about the epic about the Tangshan earthquake of 1976 and the terrible choice confronting a mother during the rescue operation. Directed by Feng Xiaogang and starring Chen Li, Daoming Chen, Fan Xu, Jin Chen and Jingchu Zhang. [Apollo Piccadilly Circus / 15]
brilliantlove (Soda Pictures): British drama about the relationship between a couple (Nancy Trotter Landry and Liam Browne) whose intense relationship becomes threatened by blackmail. Directed by Ashley Horner. [Curzon Renoir & Key Cities]
A Day In the Life – Four Portraits Of Post-War Britain (bfi Distribution): A re-release for a series of short films from the 1950s and early 1960s about British public life filmed by John Krish. [BFI Southbank & Key Cities / U]
The Edge Of Dreaming (Cinefile): A documentary by Amy Hardie about a year in the life of a woman who has had a dream that it will be her last.
Into Eternity (Dogwoof): A documentary about Onkalo, the enormous underground site in Finland which has to store thousands of tonnes of radioactive nuclear waste.
[ICA Cinema & Key Cities]
My Afternoons With Margueritte (Picturehouse Entertainment): A drama about the friendship between a loner (Gérard Depardieu) and an elderly woman (Gisèle Casadesus). Directed by Jean Becker. [Cine Lumiere, Curzon Mayfair, Everyman, Gate & Nationwide / 15]
We Are What We Are (Artificial Eye): A Mexican drama about a family of cannibals who have to eat human flesh due to social pressures. Directed by Jorge Michel Grau. [Curzon Soho, Odeon Covent Gdn., Screen On The Green, Vue Islington & Nationwide / 15]
> Find out what films are showing in your area with Google Movies
> All the UK cinema releases for November 2010
> UK DVD and Blu-ray Releases for Monday 8th November 2010