Un conte de Noel (A Christmas Tale) screened last night and is the latest film from director Arnaud Desplechin, who made Kings and Queen in 2004.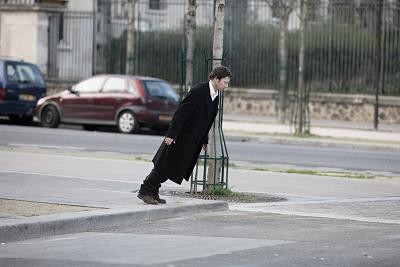 It is a drama about a dysfunctional family who gather together for the first time in years after a tragedy and stars Catherine Deneuve and Mathieu Amalric.
Here is a summary of critical reaction to the film:
Kim Voynar of Cinematical is impressed:
This could have been an emotionally wrenching film, but Desplechin keeps the tone light, infusing the drama with humor in the most unexpected places…

This kind of familial tale, interwoven with classic literary elements and philosophical questions, is something that Desplechin excels at, and A Christmas Tale is a perfect example of why both international and independent cinema — and a festival like Cannes, which showcases such films — are still important today.

I hope the film will secure distribution in the United States as well, so that American audiences might also get to appreciate its humor, beauty and depth.
Lisa Nesselson of Screen Daily is impressed by the cast as well as the craft of the film:
A beautifully-cast, tragic-comic ensemble piece in which an extended family gathers for the title holiday, Arnaud Desplechin's A Christmas Tale is an intricate, accomplished patchwork of sometimes nutty but always believable human behaviour.

Lengthy but never dull, this lively tale is sufficiently engrossing to interest even those who don't usually go for Desplechin's frank and discomfiting approach to interpersonal and intergenerational relationships.
Lou Lumenick of the New York Post is impressed by the performances:
Excellent performances, including Mathieu Almaric as the ne'er-do-well eldest son and Anne Cosigny as the uptight sister who banished him, will make "A Christmas Tale" a holiday treat when it gets released in the U.S. later this year.
Kenneth Turan of the LA Times is a huge fan of the film and even feels that this could be the first French entry in over 20 years to scoop the Palme d'Or:
It's been more than 20 years since a hometown French film won the Palme d'Or at the Festival de Cannes, but there is definitely a strong contender in Arnaud Desplechin's marvelous "A Christmas Tale," which screened here Friday morning.

Desplechin has created a multigenerational drama around a gorgeously fractious family that comes together for a memorable Christmas week reunion, a film that critics here are comparing to a Gallic "Fanny and Alexander.

Unexpected but still made squarely in the French humanist tradition, this is a film you don't want to see end, not because the people are so happy but because they are so human and so alive.
Derek Elley of Variety is more restrained and doubts it will do much business outside fo France:
Performances and direction, rather than the yards of inconclusive dialogue, are what keep Arnaud Desplechin's 'A Christmas Tale' from curdling in its own juices.

Dysfunctional family ensembler, just about held in focus by Catherine Deneuve's regal perf as a mother who's been diagnosed with liver cancer, is more tolerable and less pretentious than some of Desplechin's previous talkfests, like 'How I Got Into an Argument' or 'In the Company of Men', but beyond Gaul faces only minimal business from hardcore addicts of the helmer and gabby French cinema.
Ty Burr of The Boston Globe finds it very French and very funny:
…very French, very engrossing, often very funny, like a good, long novel you can't put down.

One of the jokes is watching Almaric and his 'Diving Bell' co-star Anne Consigny as a brother and sister who detest each other; one of its joys is watching Deneuve play opposite her daughter Chiara Mastroianni — playing a daughter-in-law Denueve's character doesn't much like.

Mastroianni is looking more and more like her late father, and her performance is one of the many gems in this rambunctious, imperfect joy of a movie.
Fabien Lemercier of Cineuropa is impressed by many aspects of the film:
The film is as brilliant as it is cruel, and brings together the sweetness of intelligence and cinematic know-how with its characters' overflowing bitterness.

Its explosive elegance is near perfect, yet it successfully manages to keep the audience at an emotional distance.
Andrew O'Hehir of Salon is another huge fan of the film:
If this is not the obvious masterpiece on first viewing that "Kings and Queen" was, I found "A Christmas Tale" a marvelously rich visual, intellectual and emotional experience, one that I expect will grow deeper with repeat viewings.
IFC have acquired the US distribution rights for the film.
Here is the trailer (in French):
> Un conte de Noel (A Christmas Tale) at the IMDb
> IHT article on the film
> Reuters report on Mathieu Amalric and the film