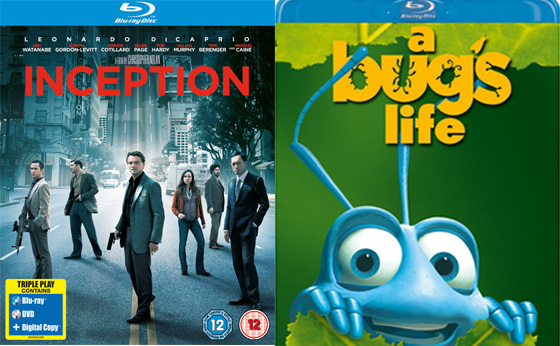 DVD & BLU-RAY PICKS
Inception (Warner Home Video): Christopher Nolan's ambitious heist film was one of the most talked about blockbusters of the year and Warner Bros have given it a worthy Blu-ray release. The story revolves around a gang of hi-tech thieves led by international fugitive Dom Cobb (Leonardo DiCaprio), who steals valuable information from people's dreams.
After a job on a Japanese businessman (Ken Watanabe) goes wrong, he is faced with the daunting challenge of 'inception': instead of stealing information, he must secretly plant some inside the mind of an wealthy tycoon (Cillian Murphy). Assembling a team of experts (which includes Joseph Gordon-Levitt, Ellen Page and Tom Hardy) who can help him execute the mission, he must also deal with his own troubled past, which endangers his ability to do the job at hand. [Read full review] [Buy it on Blu-ray / DVD / Triplepack]
A Bug's Life (Walt Disney Studios Home Ent.): Pixar's seconf feature length film suffered from following the groundbreaking Toy Story (1995) but is still way above the standards of equivalent fare. It is the story of an ant named Flik (David Foley) who helps his colony defend itself against the tyranny of the local grasshoppers (led by Hopper, voiced by Kevin Spacey).
As with other Pixar films, the story is impressively assembled, whilst the humour and emotions are nicely balanced. It hasn't achieved the affection of Pixar classics such as Finding Nemo (2003) or WALL-E (2008) but there is still a lot to enjoy here and keep a look out for the faux-outtakes over the end credits. [Buy it on Blu-ray / DVD]
ALSO OUT
Alice in Wonderland (Walt Disney Studios Home Ent.) [Blu-ray / with 3D Version]
Chaos/The Bank Job (Lionsgate UK) [Blu-ray / Normal]
Funny Games (Kaleidoscope Home Ent.) [Blu-ray / Normal]
Shrek: Forever After – The Final Chapter (DreamWorks Animation) [Blu-ray / Normal]
Supernatural: The Complete Seasons 1-5 (Warner Home Video) [Blu-ray / Normal]
The Sorcerer's Apprentice (Walt Disney Studios Home Ent.) [Blu-ray / Normal]
The Twilight Saga: Collection – The Story So Far (Entertainment One) [Blu-ray / Steel Book]
The Twilight Saga: Eclipse (E1 Entertainment UK) [Blu-ray / Normal]
Tinker Bell and the Great Fairy Rescue (Walt Disney) [Blu-ray with DVD]
War/The Forbidden Kingdom (Lionsgate UK) [Blu-ray / Normal]
White Material (Artificial Eye) [Blu-ray / Normal]
> The Best DVD and Blu-rays of 2009
> UK Cinema Releases for Friday 3rd December 2010 including Megamind and Monsters