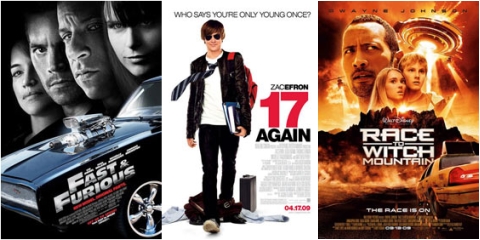 NATIONAL RELEASES
Fast and Furious (Universal): The fourth film in The Fast and the Furious film series which is set between the second and third films, five years after the events of the first film. The plot connects with the original film from which Vin Diesel, Paul Walker, Michelle Rodriguez, and Jordana Brewster reprise their roles. It has already taken a ton of money in America after dominating the box office there last weekend and could very well claim the top spot here.  
17 Again (Entertainment): A body swap film which stars Matthew Perry as a thirtysomething man who gets the chance to be his 17 year old self (Zac Efron). Directed by Burr Steers (who previously directed Igby Goes Down and How to Lose a Guy in 10 Days, as well as being the guy on the couch in Pulp Fiction  who gets shot by Samuel L Jackson), it is likely to play well to the High School Musical fanbase, but might suffer in what is a crowded week for family films with the Easter holidays. 
Race To Witch Mountain (Disney): A re-imagining (i.e. loose remake) of the 1975 film Escape to Witch Mountain. Both versions of the film are based on the 1968 novel Escape to Witch Mountain by author Alexander Key. This one stars Dwayne 'Formerly Known as The Rock' Johnson, Anna Sophia Robb, Alexander Ludwig and Carla Gugino. The iffy reviews probably won't stop curious family audiences from checking it out, even if it doesn't have any major stars in it.
Dragonball Evolution (Fox): A live-action film adaptation of the Dragon Ball media franchise (so one to get the art-house crowd excited), the plot revolves around the adventures of the lead character Goku (Justin Chatwin) and his nemesis Lord Piccolo (James Marsters). It is directed by James Wong and produced by Stephen Chow.
[ad]
IN SELECTED RELEASE

Fifty Dead Men Walking (Metrodome): An adaptation of Martin McGartland's 1997 autobiography of the same name, about his time as an informant within the Provisional IRA from 1988 til 1991. It stars Jim Sturgess as McGartland, Ben Kingsley as his British handler and was directed by Kari Scogland.
Let The Right One In (Momentum): Set during the 1980s, this Swedish vampire film tells the story of a bullied 12-year-old boy named Oskar (Kåre Hedebrant) who develops a relationship with a vampire (Lina Leandersson). Directed by Tomas Alfredson, it is based on the novel by John Ajvide Lindqvist and has garnered widespread critical acclaim, won awards and become something of a cult hit over the last few months.
* Listen to our interview with Tomas Alfredson about Let the Right One In *
Tony Manero (Network Releasing): A Chilean film directed by Pablo Larraín about a man obsessed with John Travolta's character in Saturday Night Fever. It was Chile's submission to the 81st Academy Awards for the Academy Award for Best Foreign Language Film.
The 400 Blows (BFI): A BFI reissue for this classic 1959 film directed by François Truffaut, which was a key part of the French New Wave. The story is about an ordinary adolescent in Paris, who is thought by his parents and teachers to be a trouble maker.
Tera Mera Ki Rishta (Eros): A bollywood movie starring Jimmy Shergill and Kulraj Randhawa.
> Check out the UK cinema releases for April 2009
> Listen to our interview with Tomas Alfredson on Let the Right One In
> Check out our latest DVD picks (W/C Monday 6th April)