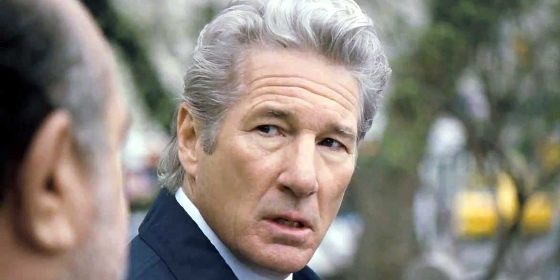 A highly impressive drama about a rich hedge fund manager explores many unpleasant truths about the nature of Wall Street.
In a clever twist on 'the wronged man' genre, writer-director Nicholas Jarecki depicts the struggles of Robert Miller (Richard Gere), a billionaire head of a company on the brink of bankruptcy.
Only a trusted few know the truth and matters escalate when his daughter and chief accountant (Brit Marling) begins to suspect wrongdoing.
Things get worse when he flees from the scene of a car crash involving his mistress (Laetitia Casta) and is pursued by a dogged detective (Tim Roth).
In Hitchcock films such as Saboteur (1942) and The Wrong Man (1956), innocent protagonists struggle to clear their name after they are wrongly declared guilty of something.
Jarecki inverts that trope here by making his character guilty of many things (infidelity, fraud and perverting the course of justice) and still making us root for him as his tries to extricate himself from crisis upon crisis.
The casting of Gere was clever: in what is his best screen performance in years, he somehow manages to elicit our sympathy whilst engaging in some despicable acts.
But the cold truths this story digs into have any number of real life parallels in the US financial sector over the last few years.
The basic theme is that for the super-rich denizens of Wall Street anything is a deal that can be negotiated, even if that comes at a heavy cost for others.
Complicit are investors ignoring false accounting and his wife (Susan Sarandon), who ignores her husband's mistress in exchange for an opulent lifestyle.
In the wrong hands, Arbitrage could either be a ponderous, moralising drama or an overblown thriller, but Jarecki gets the balance just right.
He is aided by some fine supporting performances from Marling (following her impressive writing and acting turns in Another Earth and The Sound of My Voice) and Nate Parker, who excels in a key supporting role.
For his first feature Jarecki has wisely recruited some solid behind-the-scenes talent: composer Cliff Martinez lends the film a tense, atmospheric score and cinematographer Yorick Le Saux gives the film a highly impressive visual sheen.
Shot on a budget of just $12 million, it has currently has made close to $50 million with a pioneering simultaneous release on cinema and VOD.
Although not the first film to take this approach, its substantial earnings on multiple platforms may be seen as a landmark, as the new release model for mid-budget indie films like this takes shape.
In the UK, it was available on iTunes two weeks before the DVD and Blu-ray, suggesting that Apple and the distributor (Koch Films) were monitoring this as the kind of canary in the coal mine.
If the US video-on-demand performance ($12 million) is anything to go by, then things look promising.
Arbitrage is out now on DVD, Blu-ray and iTunes
> Official site
> Reviews of Arbitrage at Metacritic
> Richard Gere talks to Thompson on Hollywood about the film