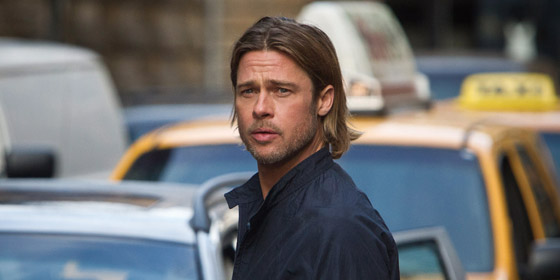 The buzz surrounding this expensive zombie-apocalypse movie has been largely negative but it turns out to be agreeable genre fare, laced with some spectacular set-pieces.
Brad Pitt plays a UN troubleshooter who has to escort his family to safety after a virus turns Philadelphia (and the rest of the world) into bloodthirsty, rampaging zombies.
From there he is recruited to find the source of the disease and his journey takes him to South Korea, Israel and Wales, all the while avoiding infection himself.
Although this is essentially a big budget, apocalyptic disaster movie – reworking elements of 28 Weeks Later (2007), Contagion (2011) and Independence Day (1996) – Pitt has the screen presence to keep our attention hold as the film shifts rapidly around the world.
At times it moves too fast, but the action is competently handled and there are some interesting ideas laced amidst the chaos, notably the real world hotspots such as South Korea and Israel making their way into the mix.
Though those traces remain the novel upon which it was based was apparently much more political (exploring the issues from a global perspective and having the disease begin in China), which meant they were trimmed for the demands of the global marketplace.
Whilst this is a shame, the central set piece set in Israel is visually stunning: when crazed zombie hordes attack a walled Jerusalem, they resemble a biblical plague of insects.
The false safety the Israeli survivors feel perhaps reflects real world anxieties and the visual effects are blended in well with the live action.
Just before Pitt lands in Israel we see a nuclear explosion in the distance and when he lands his contact there seems to have too much faith in the city wall keeping the zombies out.
It is left up to the audience to decide what these images might mean by audiences can infer parallels with contemporary strife in the Holy Land.
The film's final third has been the subject of much speculation, with reported rewrites and re-shoots ballooning the budget, but whatever the cost it just about works.
A scene involving a drinks machine is the only jarring moment in a tense climax in which Forster and his sound editors load on the tension.
The casting of relatively unknown actors in supporting roles (Mireille Enos as Pitt's wife and Daniella Kertesz as an Israeli soldier) is also a nice touch for a film of this scale.
Ultimately it may not make a huge profit for Paramount and its multitude of producers, but for a summer blockbuster it is refreshing to see one not based on a comic book.
World War Z opens in the UK on June 21st