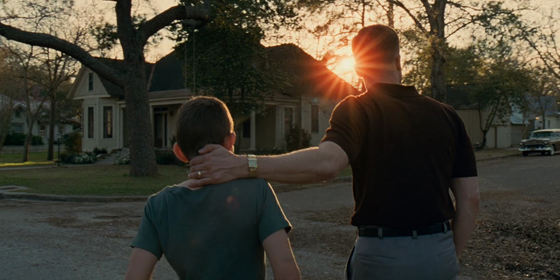 Emmanuel Lubezki has won the ASC award for his work on The Tree of Life.
The American Society of Cinematographers awarded his stunning work on Terrence Malick's film on Sunday night at the Hollywood and Highland Grand Ballroom in Los Angeles.
The Mexican-born Lubezki had previously won the ASC Award for his groundbreaking work on Alfonso Cuarón's Children of Men (2006), and has been nominated for five Academy Awards.
He was also shortlisted for Cuarón's A Little Princess (1995) and Malick's The New World (2005).
The Tree of Life is quite simply one of the best looking films in recent history. Maybe one of the best ever.
Todd McCarthy's review in The Hollywood Reporter nailed it:
"Emmanuel Lubezki outdoes himself with cinematography of almost unimaginable crispness and luminosity. As in The New World, the camera is constantly on the move, forever reframing in search of the moment, which defines the film's impressionistic manner"
When they first teamed up, Malick and Lubezki created a series of creative constraints that evolved during the making of that film and spilled over into this one.
In an interview with American Cinematographer Lubezki revealed that rules were part of his creative process:
"In all the movies I've done, I always worked with a set of rules — they help me to find the tone and the style of the film. Art is made of constraints. When you don't have any, you go crazy, because everything is possible."
Or as Kathryn Bigelow might say (when quoting Andre Gide):
"Art is born of restraint and dies of freedom"
The same article went on to describe the parameters they used on the film, which the cinematographer and crew members nicknamed 'the dogma':
Shoot in available natural light
Do not underexpose the negative Keep true blacks
Preserve the latitude in the image
Seek maximum resolution and fine grain
Seek depth with deep focus and stop: "Compose in depth"
Shoot in backlight for continuity and depth
Use negative fill to avoid "light sandwiches" (even sources on both sides)
Shoot in crosslight only after dawn or before dusk; never front light
Avoid lens flares
Avoid white and primary colors in frame
Shoot with short-focal-length, hard lenses
No filters except Polarizer
Shoot with steady handheld or Steadicam "in the eye of the hurricane"
Z-axis moves instead of pans or tilts
No zooming
Do some static tripod shots "in midst of our haste"
Accept the exception to the dogma ("Article E")
Lubezki also noted:
"Our dogma is full of contradictions! For example, if you use backlight, you will get flares, or if you go for a deep stop, you will have more grain because you need a faster stock. So you have to make these decisions on the spot: what is better in this case, grain or depth?"

"The most important rule for me is to not underexpose. We want the blacks; we don't like milky images. Article E does not apply to underexposure!"
One thing that was striking about the film was its amazing use of natural light:
"When you put someone in front of a window, you're getting the reflection from the blue sky and the clouds and the sun bouncing on the grass and in the room. You're getting all these colors and a different quality of light. It's very hard to go back to artificial light in the same movie. It's like you're setting a tone, and artificial light feels weird and awkward [after that]."
Shooting on the Arricam Lite and Arri 235 with Kodak film stocks, his decision to shoot in 1:85 and not anamorphic or Super 35 was also interesting:
"Even though anamorphic has more resolution, we decided on 1.85 because the close focus was going to be extreme — we were so close to the kids, their faces, hands and feet. And we didn't want the grain of Super 35."
It is well worth reading the full interview here.
The full list of winners from the evening were:
Feature Film: Emmanuel Lubezki, The Tree of Life
Television Episodic Series/Pilot, One Hour: Jonathan Freeman, Boardwalk Empire (Ep. 21)
Television Episodic Series/Pilot, Half Hour: Michael Weaver, Californication (Ep. Suicide Solution)
Television Movies/Miniseries: Martin Ruhe, Page Eight
The Honorees were:
Board of Governors Award: Harrison Ford
ASC Lifetime Achievement Award: Dante Spinotti
ASC Career Achievement in Television Award: William Wages
ASC Presidents Award: Francis Kenny
ASC Bud Stone Award of Distinction: Fred Godfrey