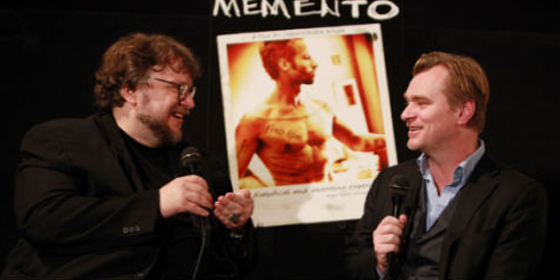 Earlier this year Guillermo Del Toro sat down with Christopher Nolan to discuss Memento in Los Angeles.
It was after a screening at the Egyptian Theater to promote the restored Blu-ray release of the film and was a fascinating discussion between two of the best directors currently working in Hollywood.
Although it looks like it was officially filmed for future release, Michael Midnight was in the audience and managed to capture edited highlights of the conversation.
Amongst the things they discussed were:
The influence of Jorge Luis Borges on Nolan's writing
Why Nolan has never watched the 'chronologically correct' version
Distribution chief Bob Berney (who masterminded the release of Memento and Pan's Labyrinth)
Why seeing Memento connect with audiences inspired Inception
The importance of 'restless' actors like Guy Pearce
The mix of emotion and genre
How Nolan's brother Jonathan persuaded him to never reveal the truth about the ending
Nolan's stripped down approach to dialogue
Casting Guy Pearce and Carrie Anne Moss
The IMAX film camera
> Christopher Nolan and Guillermo Del Toro at Wikipedia
> Visual representations of Memento