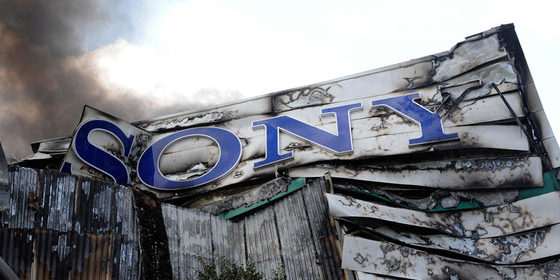 A warehouse vital to the distribution of independent music and films has been destroyed by fire in the recent UK riots.
On Monday night, the Sony DADC in Enfield was burnt to the ground leaving many prominent distribution labels badly affected.
The impact for many key independent film distributors has been devastating, with many losing their DVD and Blu-ray stock.
An official statement from Nick Hartley, chief operating officer of PIAS Entertainment Group, was published by Billboard:
"Sony DADC have identified a temporary distribution partner [yet-to-be-announced] and it is envisaged that they will be in a position to pick, pack and ship orders in the course of next week. Our key focus at the moment is to get things re-manufactured and we are working with our labels on the best way of doing that is — identifying which lines are turning over the fastest and getting them to start re-manufacturing again. At the same time we looking in our Brussels warehouse and [speaking to] other labels in Europe, if they don't go through us, to see what stock there is to be able to ship back from Europe into the U.K. in order to keep supplies going."
UK shops typically carry a reasonable amount of stock but Hartley highlighted the more pressing problem:
"Our biggest problem is going to be the depth of catalog. Remanufacturing and getting stock in [outlets] next week of the top several lines is do-able, but we had over 8,000 lines at Sony DADC. [As for] whether they will all ever be re-manufactured, there's obvious issues there and I think some of them will lose out in that process."
Companies directly impacted by the fire include the BFI (who re-release many classics), Artificial Eye (an established major arthouse label) and Dogwoof (a new and pioneering UK indie releasing many acclaimed documentaries).
The warehouse was engulfed in flames live on the BBC News channel.
According to a report in The Guardian, the BFI estimate that they have lost over 120,000 units.
Although DVD sales are declining they still represent a major revenue source for the industry as a whole and are vital for smaller companies operating on slimmer profit margins.
However, despite the short term problems, the contingency plans and insurance should prevent disaster.
The Guardian quote Anna Godas, the CEO of Dogwoof:
"DVD is still a strong revenue stream for us – we have lost around 50,000 DVDs, worth around £300,000". She says that Dogwoof's pipeline of new product is unlikely to be affected but steady sellers – such as The Age of Stupid, Restrepo and Food Inc – will be hit hard. Nevertheless, Godas is confident that any losses will be covered by Sony's insurance. "We've been told by them they will be looking after it," she said.
Steve Lewis, the home entertainment manager of Artificial Eye, also said:
"All our stock was there – more than 300 titles in our catalogue," said Steve Lewis, Home entertainment manager at Artificial Eye, which has critical hits like Winter's Bone, Of Gods and Men and Krzysztof Kieślowski's Three Colours trilogy in its back catalogue. "But we've been impressed by the speed at which Sony have put their contingency plans into action. Disruption should be kept to a minimum. Our stock is insured."
BBC News reported earlier today that 900 people were arrested over the recent looting and riots, including:
…two boys of 17 and a man of 18 held over an arson attack which destroyed a Sony warehouse in Enfield, north London, on Monday.
More positive developments since the fire have included various bloggers and people using social media to help.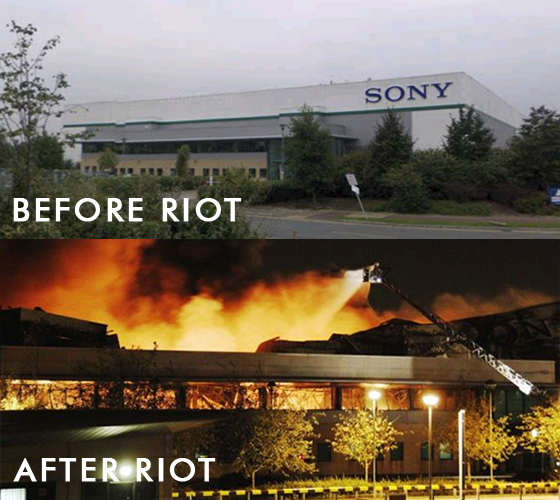 Bleeding Cool has posted an extensive list of distributors affected and films you can buy or watch digitally.
If you want to purchase films you notice on their sites remember that many are available on video on demand sites such as iTunes UK, Lovefilm, Film 4 on Demand, Curzon on Demand.
Here are links to the distributors affected:
If you want to follow some of these companies on Twitter then, their usernames are:
The music industry has also been badly hit with stock from over 150 independent labels, including XL and Domino, lost in the flames.
But a campaign called LabelLove has been launched to raise money for labels hit by the fire.
You can find out more and donate money via their website, email labellovebenefit@gmail.com and follow them on Twitter account @_label_love_ has been created, whilst users can also use the hashtag #labellove.
If you have any other links to any related campaigns or ideas about spreading the word about helping the companies affected just get in touch.
> The Guardian on the impact of the fire
> More on the England riots at Wikipedia
> NME on the campaigns to help music labels