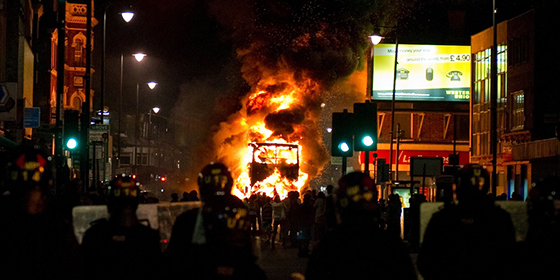 Over the last few days London has been ravaged by severe riots which have unleashed carnage on the UK's capital city.
I write this as someone from the South East who has worked in and around the city for years and I still regularly commute there for work.
It is a city where I've seen films since I was a young boy, worked with friends and colleagues in radio and I was in North London on Saturday night when I first got an inkling that something was wrong.
Twitter lit up with reports of violence in Tottenham, initially triggered by the earlier death of a 29 year old man.
Since then it has escalated at an almost unbelievable rate as packs of looters have spread around London and other parts of the UK.
Although there have been riots before in the 1980s, the scale of this is truly something else.
For anyone outside the UK, who wants to know more about why parts of a modern Western nation have come to resemble a war zone check out the Wikipedia entry for the London Riots 2011 – it isn't perfect, but is a good introduction.
In time there will be consequences for what has happened as the public, politicians and media debate the causes of what has gone on.
There is a lot of media available on the web, both social and traditional, so I thought I'd include some here in order to try and make sense of what's gone on and to function as a running archive for what is still a developing story.
There is this Google Map which shows the scale of violent incidents across London and the UK on August 8th:

View Initial London riots / UK riots in a larger map
A more up to date map at The Guardian can be found here.
This AP report shows how the riots first kicked off in Tottenham on Saturday:
The Boston Globe have posted a series of images from the carnage of Saturday night.
This Flickr group from The Guardian has pooled hundreds of photos shot over the last few days:
This video of an injured man being mugged in Queens Road, Barking surfaced on Facebook and quickly went viral:
This video of a Hackney woman raging against the rioters was filmed and uploaded to TwitVid, and so far her impromptu speech has been viewed over 1.4 million times:
Earlier this morning, Leana Hosea of the BBC World Service spoke to looters in Croydon and the resulting audio soon became the second most popular audio/video piece on the BBC News site:
This video shot in Woolwich of rioters charging the police sadly became a symbol of the night as the forces of law seemed bewildered and outnumbered:
The Sony Distribution Centre in Enfield was set on fire and in one night dealt a devastating blow to numerous independent film and music labels who had stock there:
Richard Bacon on 5 Live did this interview with Camila Batmanghelidjh, founder of the charity Kids Company, and the interview provoked a lot of response from listeners:
On a similar note, Mary Riddell wrote a must-read column in the Daily Telegraph (a conservative newspaper) which analysed why this explosion of violence took the media and political establishment by surprise.
Matt Burgess used Storify to gather various images and videos from social networks like Twitter and YouTube:
The violence has spread to other cities including Birmingham and Manchester.
One can only hope that order is restored soon.
> More on the London Riots of 2011 at Wikipedia
> Get the latest updates on BBC News, The Guardian, Telegraph and NY Times