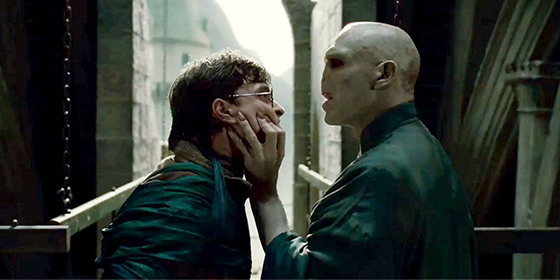 The final chapter of the highest grossing film franchise in history will delight fans and presumably break box office records, even though the final book shouldn't have been split in two for the big screen.
Opening with a brief snippet of the climax to Part 1 (intriguingly before the studio logo), the final Potter extravaganza deals with Harry (Daniel Radcliffe) finally confronting his destiny and taking on his wizard nemesis Lord Voldemort (Ralph Fiennes) as the forces of darkness surround Hogwarts.
For those that aren't Potter experts here is a brief summary of the film series so far:
In the The Deathly Hallows Part 1 (2010), Harry (Daniel Radcliffe), Ron (Rupert Grint) and Hermione (Emma Watson) followed clues left by the late Dumbledore and went in search of Horcruxes  (magical artefacts) to help them kill Voldemort, whilst avoiding the clutches of his followers.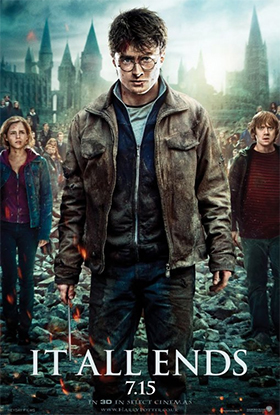 Part 2 opens with Voldemort in possession of Dumbledore's wand, whilst Harry and his gang have to get back to Hogwarts to destroy more Horcuxes and fight off the forces surrounding their school.
Now, did any of these plot details make your head spin?
One of the problems in writing anything about the Potter films is that it's like reporting from a large foreign country – people know it exists but can get confused by the local details.
In many the Harry Potter phenomenon is the Star Wars of its generation – a franchise which recycles previous tales of good and evil, repackages them with special effects and places them within a detailed fantasy world.
When the films began in 2001, there was already a generation of children obsessed with the books (by then the fourth had been published to record breaking sales), so there was already a built-in audience.
But Warner Bros were smart to preserve J.K. Rowling's vision and even if you are not a fan, these films are faithful to the books and technically well made.
Since David Yates started directing the films with The Order of the Phoenix (2007), there seems to have been a ramping up of the films in terms of scale and effects, even though they weren't exactly small to begin with.
With this, the decision to split the final book in two was presumably made because the source material was longer than before and the studio was getting two blockbusters for essentially the price of one (albeit large) production.
Although this story is fast-paced, it feels like the third act of a previous film spread too thinly and perhaps the correct way for fans to see it is to experience it as a double-bill with Part 1.
Experienced in isolation, this film moves a bit too fast, whereas the previous film was a bit too slow.
At a running time of 131 minutes, Part 2 is essentially a war film in the wizarding universe as Hogwarts is under siege from Voldemort's hordes: this means some key developments (especially involving two major characters) don't really get the screen time they deserve and are drowned out by the clash of magical armies and characters brandishing wands.
Voldemort isn't as scary now either, which is a bit of a let down considering the whole series has been leading up to this confrontation.
The best narrative pay off involves Severus Snape (Alan Rickman), who has a flashback montage that shows new sides to his character.
By coincidence I happened to see this on the same day as watching Terrence Malick's The Tree of Life and was struck by certain bizarre similarities: there is an extended flashback sequence involving trees, flowing water and an idealised red haired woman, plus there is also a sequence which touches upon issues of mortality.
Despite obvious differences with Malick, it is unusually bold territory for a children's franchise to venture.
But part of the main appeal of the film franchise over the past decade is how they have provided a showcase for the latest in visual effects and cutting edge CGI.
The Yates films have been especially impressive at spectacle and here DP Eduardo Serra, the VFX crew under John Richardson and production designer Stuart Craig all work wonders in integrating CGI with real world locations and sets.
One of the more positive by products of the Potter series has been the growth in UK effects houses such as Double Negative, MPC, Cinesite and Framestore, who all sign off the franchise with absolutely sterling work.
The decision to make this 3D is a nakedly financial one that adds little to the visual impact of the film and the 2D version may be preferable for general  audience (For the record, I saw it in 3D).
A final coda suggests there is room to expand the franchise if Rowling and Warner Bros wanted to, although whether that would be wise is another question.
With each new film over the last decade, the series has become something of a slog to those not addicted to the books, as you try to recap previous events and characters, so there is something satisfying that it is all finally over.
So, the final chapter is doubly satisfying: for fans it delivers the visual spectacle and reverence to the books, whilst for general audiences it is a last chance to experience the franchise before getting sick of the boy wizard and his pals.
> Official site
> Find out more about the Harry Potter series at Wikipedia
> Reviews at Metacritic