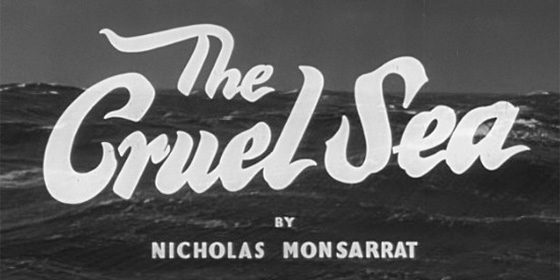 This new Blu-ray release of The Cruel Sea is a good opportunity to experience this unusually gritty 1953 drama depicting life during the Battle of the Atlantic in World War II.
Based on the best-selling novel by Nicholas Monsarrat, it tells the story of life on board a Naval corvette led by Captain Ericson (Jack Hawkins) and his inexperienced crew, who include Lockhart (Donald Sinden), Ferraby (John Stratton), John Morell (Denholm Elliott) and Hallam (Virginia McKenna).
Directed by Charles Frend and produced by Leslie Norman (father of Barry), it was a commendably frank depiction of the hardships of warfare.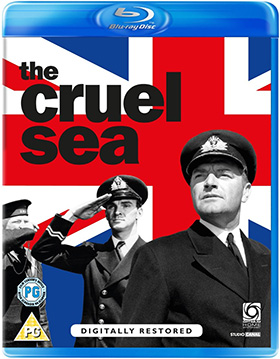 The sense of realism is impressive for a film of the time: using a mixture location shooting, studio shots and model work, life on board the ship is portrayed with an admirable attention to detail.
We never fully see the enemy German U-boats and the effect keeps the tension high, whilst the stormy Atlantic is almost presented as a dangerous enemy of a different kind.
The hardships and moral dilemmas of World War II are also well presented, making the characters feel like real people struggling with life during wartime and not one-dimensional heroes.
Nominated for one Oscar (Best Screenplay) and three BAFTA Awards (including Best British Film and Best British Actor), it established Hawkins as a star and greatly boosted the careers of Sinden, Elliot and McKenna.
Sinden is especially worth watching, as he invests his role with considerable depth, which may come as a surprise for those more familiar with his later work in UK television.
It remains one of the better British depictions of World War II and still stands up well nearly sixty years on from when it was released.
This re-release from Optimum Home Entertainment has been digitally restored and is presented in its original aspect ratio of 1.37:1: the 1080p transfer is impressive and wisely no digital corrections have been added to remove the natural grainy look of the film.
As with any film of this age there some slight imperfections but overall this looks very good for a film of this age, with the close ups of characters looking especially good.
The LPCM 2.0 audio track is handicapped by the original source material (often a problem with films of this age) but despite that, the dialogue is clean and easy to follow, whilst the action and overall ambience is fine.
The extras feature the following:
Interview with Donald Sinden (33 mins): The star recalls recalls how he got cast; how certain scenes were shot; his experiences on set; the problems filming romantic scenes and legacy of the film.
Trailer (4 min): The original theatrical trailer for the film In English, not subtitled.
Behind the Scenes Stills Gallery: A collection of photos from the filming of The Cruel Sea.
The Cruel Sea is out now on Blu-ray from Optimum Home Entertainment
> Buy The Cruel Sea on Blu-ray from Amazon UK
> The Cruel Sea at the IMDb
> Find out more about The Battle of the Atlantic at Wikipedia