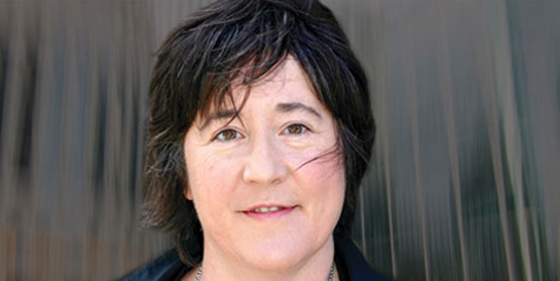 Veteran indie producer Christine Vachon recently gave a speech about 'the state of cinema' at the San Francisco Film Festival.
Films she's produced include Happiness (1998), Boys Don't Cry (2000), Far From Heaven (2002) and I'm Not There (2007).
You can watch the 20 minute talk (followed by an extended Q&A session) here in full:
Some key quotes cover the changes in the film business:
"I've seen independent film die and be re-born at least three or four times. When it does, it reminds me how terrified we are of change – how terrified the film business is of change."
On VOD and the theatrical experience:
"The state of cinema is not necessarily taking place in cinema'
The rise of quality TV (e.g. HBO, AMC) and how younger filmmakers want to work there:
"[Now] TV is so much less risk averse than cinema"
On the quality of shows involving women in the pay TV realm:
"There are more female-centric stories now than ever before on cable television –"Weeds", "The United States Of Tara", "Nurse Jackie", "Mildred Pierce", "The C Word". That's unheard of."
The dangers of a head-in-the-sand attitude:
"I think nostalgia is the most dangerous emotion in the world."
Her Twitter stream provided an interesting snapshot of reactions:

Some of the reactions surprised me in their negativity, but it seems to me this was a working producer just being honest about the realities of her world in 2011.
To her credit, Vachon retweeted some of more barbed comments towards her: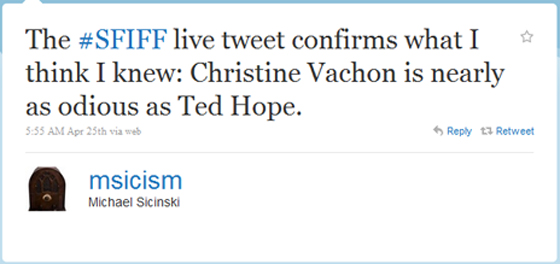 She later said:
"anyway — not sure I'll be invited back to San Francisco!"
Negative comments can always appear louder online (a majority at the event may have agreed with her, but chose not to tweet) but it seemed some of her audience just don't get what is happening to the wider film business and the kind of pressures that are affecting the mainstream and indie worlds.
It is fine (and laudable) to be a champion of the art of cinema, but it seems like there is a subset of people who secretly despise new technology like digital cameras and projection, social networks and Netflix under the banner of defending 'film culture'.
At one point an audience member seemed bewildered why a famous San Francisco cinema like the Castro is dark on certain nights in the week. It is presumably because people aren't actually going.
Why? Maybe the choice and cost of entertainment in the home makes people think twice about a trip to an arthouse cinema that can only show a limited selection of films at one time.
(An independent cinema like the Prince Charles in London can survive by being smart and connected with its audience. Mixing quality commercial fare with arthouse films, they are even showing Claude Lanzmann's Shoah (1982) in its entirety (over 9 hours) on June 18th.)
Whilst I'm a big believer in the theatrical experience and a keen advocate for quality film, what are some people proposing here?
Can we really lobby government or public bodies to keep art house cinemas alive? With a financial crisis and recession, I would guess it isn't exactly top of a politician's to-do list.
Vachon hits the nail on the head when she says that keeping arthouses alive isn't the discussion she wants to be having and instead thinks the vital question is:
"How do we engage an independent filmmaking community with its audience?"
There is no easy answer to this question, which presumably involves a mixture of different platforms, quality films and pioneering release strategies.
With the recent release window controversy, it is something that also applies to the multiplexes, but it still remains the right question to be asking.
> Christine Vachon at Twitter, IMDb and Wikipedia
> San Francisco Film Festival 2011
> Reports of the event at the Examiner and IndieWire