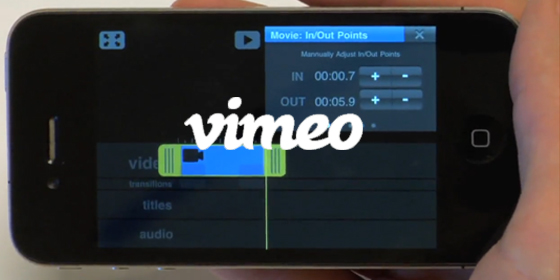 Vimeo have just launched a iPhone app which allows users to upload and edit videos.
Since launching in 2004, the video-sharing site has become popular with filmmakers and currently has over 3 million members.
They also launched a festival and awards last year with M.I.A., David Lynch, Ted Hope, Lucy Walker and Morgan Spurlock among the judges.
Part of the site's growth was down to the fact that it was an early adopter of HD and in 2009 Engadget reported that around 10% of uploads were in high definition.
The interface for the new app is pretty slick and the combination of the site and mobile editor make it very handy indeed.
It is a free download which you can use on newer iOS devices including the iPhone (3GS or 4), iPod touch (4th generation), or the iPad 2.
After a quick play around, it seems easier to use than the iMovie app (which costs £2.99 in the UK app store and $4.99 in the US) and the fact that its free is also a major bonus.
You can download the app from iTunes or via Vimeo.
> More information on the Vimeo blog
> Find out more about Vimeo at Wikipedia
> Filmmaker Magazine on the 2010 Vimeo Festival and Awards