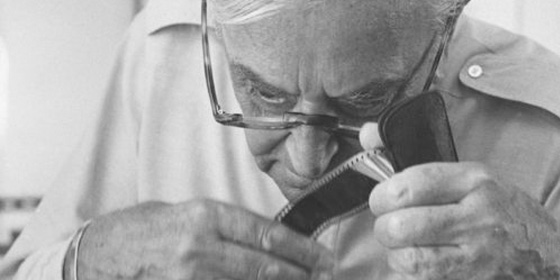 Director David Lean began as a film editor and throughout his career stressed the importance of how things cut together.
When he broke into the industry at Gaumont Studios in the late 1920s doing odd jobs, he worked his way up to editing newsreels and feature films such as Pygmalion (1938) and One of Our Aircraft Is Missing (1942).
This laid a solid technical foundation for his illustrious career as director which included Great Expectations (1946), The Bridge on the River Kwai (1957), Lawrence of Arabia (1962) and Doctor Zhivago (1965).
For his last film A Passage to India (1984) he combined his directing and editing roles, as this clip from an episode of The Southbank Show in 1985 demonstrates:
His colleague and fellow director Ronald Neame once said:
David Lean was a great director, but he was an even better editor. He was one of the greatest editors of all time.
> David Lean at Wikipedia
> Editor Walter Murch on Editing