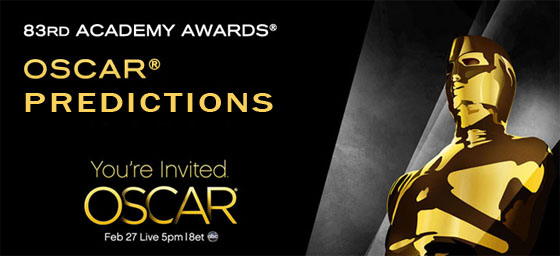 Here are my predictions for the 83rd Academy Awards which will take place this Sunday.
This year there appear to be less certainties and the only major category I would bank on would be Best Actor.
The big debate for most of the awards season has been the battle between The King's Speech and The Social Network: whilst David Fincher's drama about the creation of Facebook is the superior film, the moving qualities of Tom Hooper's period piece will probably give it the edge.
However, I would be surprised if the Academy didn't award David Fincher Best Director over Tom Hooper, even though the latter surprisingly won the DGA Award, which is usually an indicator for the Oscars.
In the major acting categories Colin Firth (The King's Speech) is a near-certainty and although Natalie Portman (Black Swan) is still the favourite, look out for Annette Benning (The Kids Are Alright) to cause a possible upset.
The supporting acting slots are fiendishly hard to call this year, so I'm going with the obvious front-runners in Christian Bale (The Fighter) and Melissa Leo (The Fighter). However, Geoffrey Rush (The King's Speech), Haileee Steinfeld (True Grit) and Helena Bonham-Carter (The King's Speech) are strong contenders.
In other categories, Inception to seems favourite to nab a few technical awards in visual effects and sound, which will make up for it being criminally overlooked in Direction and Editing.
The Best Documentary category could see Banksy appear on stage if Exit Through The Gift Shop wins. In truth I thing Inside Job will win, but Waste Land and Restrepo are also strong contenders in a very good year for documentaries.
Make sure to check back on Monday, to see how right (or wrong) I was.
OSCAR PREDICTIONS
BEST PICTURE: The King's Speech
BEST DIRECTOR: David Fincher (The Social Network) *
BEST ACTOR: Colin Firth (The King's Speech)
BEST ACTRESS: Natalie Portman (Black Swan)
BEST SUPPORTING ACTOR: Christian Bale (The Fighter)
BEST SUPPORTING ACTRESS: Melissa Leo (The Fighter)
BEST ADAPTED SCREENPLAY: Aaron Sorkin (The Social Network)
BEST ORIGINAL SCREENPLAY: David Seidler (The King's Speech)
BEST ART DIRECTION: The King's Speech (Eve Stewart; Judy Farr)
BEST CINEMATOGRAPHY: True Grit (Roger Deakins)
BEST COSTUME DESIGN: Alice in Wonderland (Colleen Atwood)
BEST FILM EDITING: The Social Network (Angus Wall and Kirk Baxter)
BEST MAKEUP: The Wolfman (Rick Baker and Dave Elsey)
BEST SOUND EDITING: Inception (Richard King)
BEST SOUND MIXING: Inception (Lora Hirschberg, Gary A. Rizzo and Ed Novick)
BEST VISUAL EFFECTS: Inception (Paul Franklin, Chris Corbould, Andrew Lockley and Peter Bebb)
BEST ORIGINAL SCORE: The King's Speech (Alxandre Desplat)
BEST ORIGINAL SONG: "We Belong Together" by Randy Newman (Toy Story 3)
BEST ANIMATED FILM (FEATURE): Toy Story 3
BEST DOCUMENTARY FILM (FEATURE): Inside Job
BEST FOREIGN LANGUAGE FILM: Biutiful (Spain)
> Full list of Oscar nominations for 2010-11
> Official Oscars site
> 83rd Academy Awards at Wikipedia
> Analysis at Awards Daily and In Contention