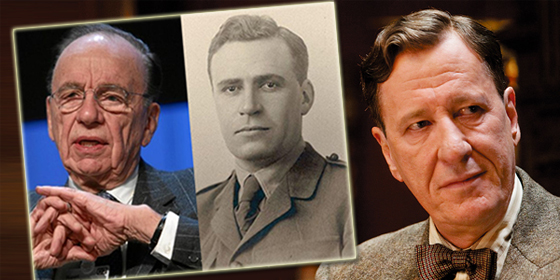 Wall Street Journal film critic Joe Morgenstern has revealed that Lionel Logue helped cure Rupert Murdoch's father of his stutter.
At the end of his most recent column, he writes about a recent conversation with his media mogul boss who asked him what he should see:
"With 'The King's Speech' gaining the Oscar traction it deserves—the latest boost being an expression of approval from Queen Elizabeth—I can't resist going public with a story that I've relished telling to friends, and to the people who made the movie. Several weeks before it opened, I had a conversation with Rupert Murdoch, who popped a question familiar to movie critics: What should he see?

I suggested "The King's Speech," and, not wanting to spoil it with too many details, gave a shorthand description: Colin Firth as King George VI, who has a terrible stutter, and Geoffrey Rush as a raffish Australian speech therapist.

Yes, he replied, Lionel Logue.

"So you know the story."

Not the story of the movie, he said. "Lionel Logue saved my father's life."
When I responded with speechlessness, he explained that his father, as a young man, wanted passionately to be a newspaper reporter, but couldn't interview people because he stuttered. Then he met Lionel Logue, who cured him in less than a year"
This is not the first time Keith Murdoch has been directly connected with a film.
After beginning his career in journalism with The Age in Melbourne he made a name for himself covering the Gallipoli campaign in Turkey, a military fiasco which was brought to the screen as Peter Weir's Gallipoli (1981).
His son Rupert was by then a powerful newspaper owner and helped produce the film before going on to buy Twentieth Century Fox in 1985.
> Rupert Murdoch, Keith Murdoch and Lionel Logue at Wikipedia
> Gallipoli at IMDb
> Joe Morgenstern's piece at the WSJ
> The King's Speech LFF review