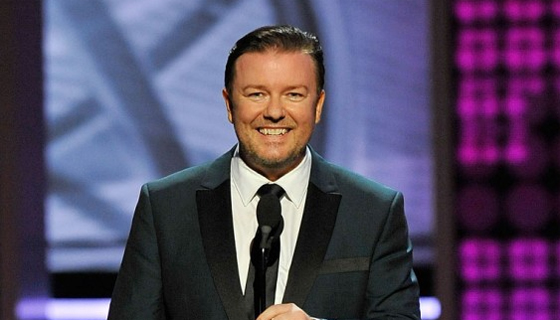 Here is a neat edit of the barbed jokes Ricky Gervais told at the Golden Globes last night.
Targets included the HFPA (that's the organisation who hired him to host the event), The Tourist, Scientology, Heather Mills, Robert Downey Jnr, Hugh Hefner, Sylvester Stallone and Tim Allen.
For what it is worth, I think part of the shocked reaction amongst some in Hollywood was that they didn't realise that Gervais' stand up comedy is much more barbed than the gentler humour of his TV and film work.
Philip Berk, the president of the HFPA was less than pleased:
"Some of the things he said were totally unacceptable"
I guess some were puzzled that he plunged head first into awkward Hollywood subjects some snark about in private, but would never dare talk about in public.
> Reactio to Gervais at the LA Times, Hollywood Elsewhere and The Wrap
> Golden Globe winners