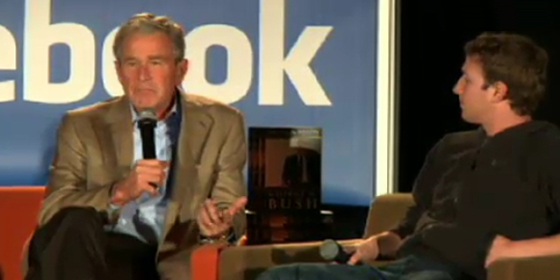 Back in November George W Bush went to the headquarters of Facebook to have a chat with Mark Zuckerberg.
If David Fincher and Aaron Sorkin team up again for a sequel to The Social Network, this has to be in it.
As for the bit where they discuss Wikileaks and Cablegate, could it get any more zeitgeisty?
The man responsible for two US-led wars, the guy who invented Facebook and one of the biggest news stories of recent times all collide at this point.
Some other things to note include:
After leaving office Bush became a Blackberry person and is now an iPad person (although he later admits not using it too much)
He uses 'The Facebook' (notice how he calls it by the original name) and even did this awkward video address on it.
He doesn't use his iPod anymore because he likes 'the sound of birds'.
> George W Bush and Mark Zuckerberg at Wikipedia
> The Social Network review