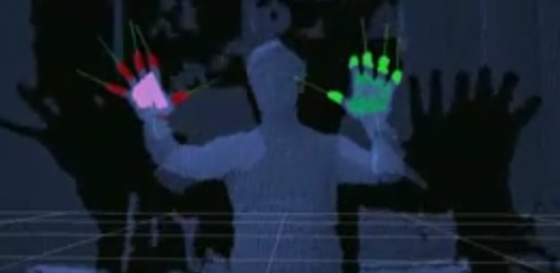 A group at MIT has created a hand-detection system using Microsoft's Kinect sensor device.
Researchers at the Computer Science and Artificial Intelligence Laboratory at MIT have modified it so that it resembles the hand gesture interface imagined in Steven Spielberg's Minority Report (2002).
Based around a camera, Kinect allows users to control and interact with the Xbox 360 console without the need to touch a controller using gestures, spoken commands, or presented objects and images.
The team at MIT created a hand detection system using the Kinect camera, which recognises the position of the palms and fingers of the users.
Systems Robotics Engineer Garratt Gallagher has released this video:
Minority Report is about a "precrimes" unit (led by Tom Cruise), who prevent murders before they occur in Washington 2054.
One of the ways they do this is through an interface which allows them to see details of crimes about to be committed:
Part of the reason it has proved so prescient is that Spielberg consulted several experts for a three-day think-tank back in 1999.
He was keen to depict plausible ideas for the futuristic setting and one of the advisors was John Underkoffler, who designed the interface used in the film.
Back in February he spoke at TED about his work on the film and the influence it continues to have on user interface design.
Among the other things 'predicted' by the film include personalised ads (Facebook, Adsense), 3D video (CNN hologram) and even insect robots (micro-robotic systems).
[Via Engadget]
> MIT Computer Science and AI Lab
> The Guardian on Why Minority Report was spot on
> The technology in Minority Report at Wikipedia