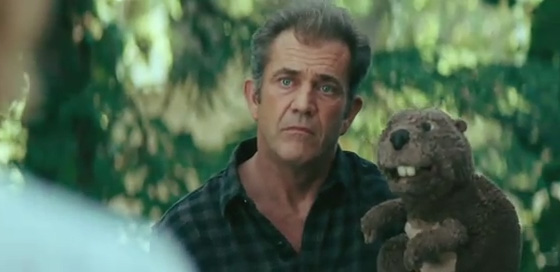 The first trailer for The Beaver has arrived with a weird voiceover and an unexpected feel-good vibe.
A dark comedy about the depressed head of a toy company (Mel Gibson) who uses a beaver handpuppet to communicate with his wife (Jodie Foster) and family, it has an interesting back story.
Directed by Foster, the script by Kyle Killen attracted a lot of buzz by topping the 2008 Blacklist, an unofficial industry poll of the best unproduced screenplays.
However, Gibson's recent phone-related meltdowns posed a dilemma for distributor Summit Entertainment and the release was put on hold whilst they decided to let things cool down.
The UK release date has already been set for February 11th and a Spring release in the US now looks likely.
Some things to note about the trailer: if you look carefully you'll notice Jennifer Lawrence (a likely Oscar nominee for Winter's Bone); Gibson's beaver voice sounds like Ray Winstone; and Foster's line near the end ("I'll fight for you…") feels autobiographical given her support for Gibson during his recent woes.
> The Beaver at the IMDb
> /Film with more details on The Beaver