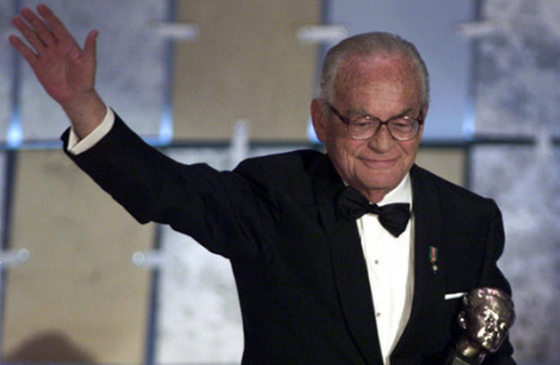 Veteran Italian film producer Dino De Laurentiis died in Beverly Hills yesterday at the age of 91.
In a prolific career where he produced nearly 150 films and worked with a dazzling array of directors, including Ingmar Bergman, Federico Fellini, John Huston, Roberto Rossellini, Robert Altman, Sidney Lumet, David Cronenberg, Sidney Pollack and David Lynch.
After producing his first film L'ultimo Combattimento (1940) he formed his own company, the Dino de Laurentiis Cinematografica, in 1946.
The early part of his career was notable for the Fellini classics La Strada (1954) and Nights of Cabiria (1956), which he produced alongside fellow Italian Carlo Ponti.
But by the 1960s he had moved firmly into the commercial realm, setting up his own studio complex Dinocitta, as a rival to the established Cinecitta studio in Rome.
However, a slump in the Italian film industry saw De Laurentiis move to Hollywood, where he embarked on a mixture of acclaimed films and big budget schlock.
Amongst the best films of this era were Serpico (1973), Three Days of the Condor (1975), The Shootist (1976) and The Serpent's Egg (1977).
Death Wish (1973) remains controversial, although it was a commercial success but the ill-advised remake of King Kong (1976) and the lamentable Jaws cash-in Orca (1977) were low points.
In the 1980s he continued to mix commercial projects such as Flash Gordon (1980), Conan the Barbarian (1982) and Dune (1984) with more acclaimed films like Ragtime (1981), Blue Velvet (1986) and Manhunter (1986).
Although early to the Hannibal Lecter franchise with Manhunter (1986), he missed out on the box office and Oscar success of The Silence of the Lambs (1991).
He didn't want to repeat the mistake and subsequently bought the rights to Hannibal (2001), Red Dragon (2002) and Hannibal Rising (2007), although they were a classic example of the law of diminishing returns.
In 2001 he received the Irving G. Thalberg Memorial Award from the Academy of Motion Picture Arts and Sciences.
He was married to actress Silvana Mangano, with whom he had four children: Veronica, Raffaella, Federico and Francesca.
After divorcing in 1988, he later married movie producer Martha Schumacher in 1990, with whom he had two daughters, Carolyna and Dina.
> Dino De Laurentiis at the IMDb
> Various tributes and links at MUBi