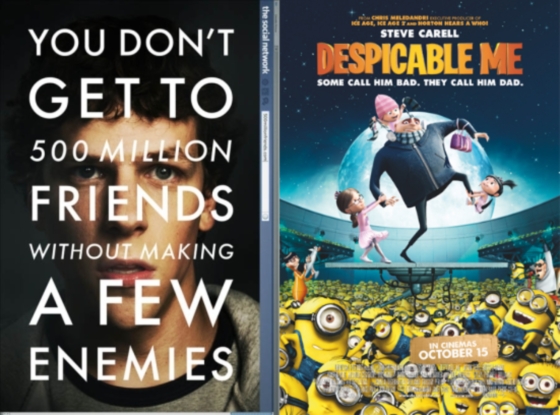 NATIONAL RELEASES
The Social Network (Sony Pictures): David Fincher's latest film is an absorbing drama about the battles amongst the founders of social networking website Facebook.
It begins with Harvard student Mark Zuckerberg (Jesse Eisenberg) getting dumped by a girl (Rooney Mara) which prompts him to hack in to the campus computer network as revenge, whilst blogging about his reasons for doing so.
This brings him to the attention of Cameron and Tyler Winklevoss (played by Armie Hammer) and Divya Narendra (Max Minghella), who approach him with the idea of a social network site, but Zuckerberg opts to create his own version with the help of his friend Eduardo Severin (Andrew Garfield).
Originally called TheFacebook it is an instant success at Harvard and campuses across the US, which leads Zuckerberg to California where entrepreneur and Napster co-founder Sean Parker (Justin Timberlake) helps him approach investors.
The narrative is intercut with flashforwards to various legal depositions, in which characters explain the conflicts which would later arise, with the Winklevoss twins and Narenda claiming Zuckerberg stole their idea, whilst Severin (who initially bankrolled the site) falls out with Zuckerberg over Parker's influence.
This might not initially sound like the most exciting or dynamic material for a film, but with an A-list roster of talent behind the camera – director Fincher, screenwriter Aaron Sorkin and producer Scott Rudin – the end result is a stimulating tale of human relationships gone wrong and a wonderfully crafted production.
It has already got rave reviews in the US and a wave of Oscar buzz, which is richly deserved as it is one of the best films to come out this year. Sony will be hoping there is enough buzz and anticipation to fend off competition from Despicable Me but this is likely to draw audiences over the coming weeks. [Nationwide / 12A]
Despicable Me (Universal): An animated film about a supervillain named Gru (Steve Carell) who tries to use three orphans girls as pawns for a grand scheme, only to find that their innocence changes him.
Featuring the voices of Jason Segel, Russell Brand, Julie Andrews, Will Arnett, Kristen Wiig, and Miranda Cosgrove it was a big success in the US earlier this summer, scoring solid reviews in the process and marks the first CGI feature produced by Universal. [Empire Leicester Square & Nationwide / Scotland from October 11th]
Vampires Suck (20th Century Fox): A parody of the Twilight series from the people who brought us comedies such as Date Movie, Epic Movie, Meet the Spartans, and Disaster Movie.
The critical revulsion that greeted this film in the US will likely be repeated over here. [Empire Leicester Square & Nationwide / 12A]
ALSO OUT
Over Your Cities Grass Will Grow (Artificial Eye): A documentary about artist Anselm Kiefer's studio in Barjac in France, where he bought a derelict silk factory and transformed it into an existing artistic centre. Directed by Sophie Fiennes. [Cine Lumiere, Gate & selected Key Cities / U]
Aakrosh (Eros): Action-thriller film directed by Priyadarshan and starring Ajay Devgn, Akshaye Khanna, Bipasha Basu, Paresh Rawal and Reema Sen. [Cineworlds Feltham, Ilford, Shaftesbury Ave., Wood Green & Key Cities]
Knock Out (Eros): A Bollywood film – that may or may not be a remake of Phone Booth – directed by Mani Shankar, and stars Sanjay Dutt, Irfan Khan and Kangna Ranaut. [Cineworlds Feltham, Greenwich 02, Ilford, Wood Green & Key Cities]
> UK DVD and Blu-ray picks for this week including The Exorcist and The Evil Dead
> Get local cinema showtimes for your area via Google Movies