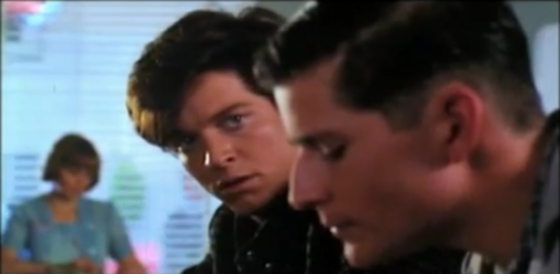 New video has surfaced of Eric Stolz as Marty McFly in Back to the Future.
Included on the forthcoming Blu-ray special edition of the 1985 time-travel comedy, it features director Robert Zemeckis, along with producers Frank Marshall and Steven Spielberg, explaining the decision to replace Stolz with Michael J Fox.
Zemeckis then convinced Universal – who would've cancelled the production if it didn't meet their deadline – to re-shoot five weeks worth of footage with Fox, who somehow combined the role with working on the TV show 'Family Ties'.
Stoltz went on to star in films such as The Fly II (1989) and Pulp Fiction (1994) and more recently has moved into directing television shows such as Law & Order, Grey's Anatomy and Glee.
The Back to the Future trilogy is out on Blu-ray on Monday 25th October
> Pre-order Back to the Future on Blu-ray from Amazon UK
> Find out more about the Back to the Future films at Wikipedia