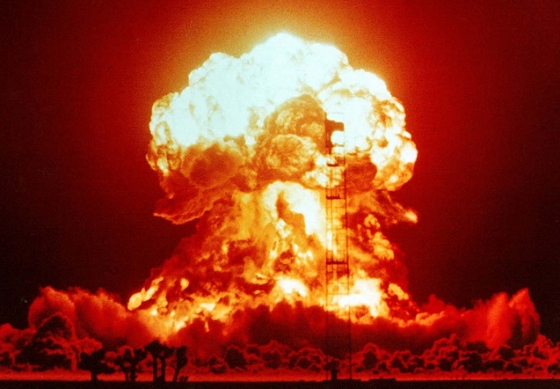 Images of atomic test explosions were a defining feature of the Cold War era, but the story of the men who filmed them has only recently emerged.
Two new documentaries about the dangers of nuclear weapons – Countdown to Zero and Nuclear Tipping Point – both feature archival footage of mushroom clouds.
But who were the people behind the camera as the bombs went off?
The New York Times recently ran a piece by William J Broad that explored how a group of filmmakers actually based in the Hollywood Hills were the men who documented the mushroom clouds that linger in the collective memory.
Lookout Mountain Laboratories in Laurel Canyon was originally designed in 1941 as an air defence station but after World War II was transformed in to a secret film studio which operated for 22 years during the Cold War.
It featured a sound stage, screening rooms and a large staff that included producers, directors and cameramen, all focused on capturing the nuclear tests in Nevada and the Pacific.
Intriguingly, the very best filmmaking technology was put to use in documenting the nuclear tests in Nevada, as they were filmed on a variety of formats, including CinemaScope, stereophonic sound, VistaVision and even 3-D.
The main viewers of these films at the time were government scientists and congressional leaders closely involved with defence, but for the people who filmed the explosions it could be a hazardous occupation.
One of the few surviving cameramen, George Yoshitake, is quoted as saying:
"Quite a few have died from cancer… No doubt it was related to the testing."
Some of the declassified films have surfaced on YouTube and they reveal some interesting details, such as the revelation that psychiatrists were on hand to observe reactions to the bomb:
These films would have been important in shaping opinion in Washington and were probably also a factor in US decision making during the Cold War.
A lot of the footage we can see today is down to the declassification that occurred in the late 1990s during the Clinton administration.
However, after 9/11 this program was stopped, which perhaps still attests to the haunting spectre of nuclear weapons and the dangers they still pose to the world.
>Original New York Times story
> More on Lookout Mountain Air Force Station at Wikipedia