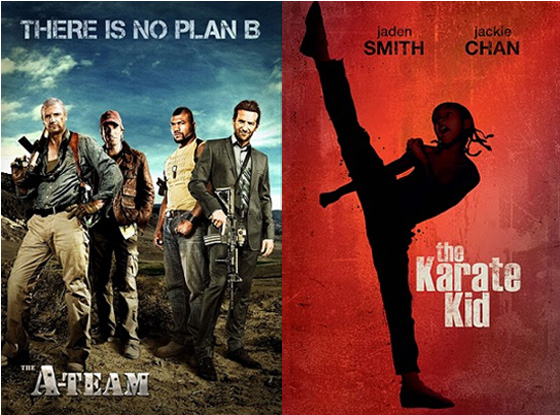 [ad]
NATIONAL RELEASES
The A-Team (20th Century Fox): The movie adaptation of the popular 1980s TV show arrives in the UK after being stuck in development limbo for years. The premise is an updated version of the series with Liam Neeson, Bradley Cooper, Sharlto Copley and Quiton Jackson as a special forces unit who are framed for a crime. Directed by Joe Carnahan (Narc, Smokin' Aces), it also stars Jessica Biel and Patrick Wilson.
On its US opening last month, it opened to less than enthusiastic reviews and softer than expected box office. Given the appeal of the show to a generation who grew up in the 1980s, it could still have a solid opening here but faces tough competition from The Karate Kid and Toy Story 3. [Vue West End & Nationwide / 12A]
The Karate Kid (Sony Pictures): Another franchise forged in the 1980s gets the remake treatment with Jaden Smith (son of Will Smith) playing a young boy from Detroit who moves to China, where he gets lessons in life and self defence from an ageing kung fu master (Jackie Chan).
Although it might seem counterintuitive to have the new Karate Kid learn Kung Fu, the film has already proved a success in the US, where it convincingly beat The A-Team on its opening weekend. Directed by Harald Zwart (who previously made Agent Cody Banks) the family friendly qualities of the film could also make it popular over here too, especially as the school holidays have just begun. [Nationwide / PG]
[ad]
ALSO OUT
Beautiful Kate (Matchbox Films): The directorial debut of actress Rachel Ward is an adaptation of the novel by Newton Thornburg and deals with a writer returing home to visit his dying father. It stars Rachel Griffiths, Bryan Brown, Sophie Lowe and Ben Mendelsohn. [Curzon Soho, HMV Wimbledon & Key Cities/ 15]
Down Terrace (Metrodome Distribution): A low budget British crime drama about a dysfunctional family in Brighton. Directed by Ben Wheatley, it stars Julia Deakin, Kerry Peacock, Robert Hill and Robin Hill. [ICA Cinema & selected Key Cities / 15]
Frontier Blues (Artificial Eye): A drama examining the lives of men on border of Northern Iran and Turkmenistan, directed by Babak Jalali and starring Khajeh Araz Dordi, Mahmoud Kalteh and Abolfazl Karimi. [Curzon Renoir & selected Key Cities / 12A]
Gainsbourg (Optimum Releasing): A biopic of the French singer Serge Gainsbourg, which depicts his early years in Nazi-occupied Paris through to his most successful period in the 1960s. Directed by Joann Sfar, it stars Eric Elmosnino, Lucy Gordon, and Laetitia Casta. [Cineworld Fulham Road, Curzon Soho & Nationwide / 15]
Separado! (Soda Pictures): A documentary exploring Gruff Rhys's attempts to meet up with his lost long Patagonian uncle, the musician René Griffiths. Directed by Dylan Goch. [BFI Southbank, Curzon Soho & Key Cities]
South Of The Border (Dogwoof): Oliver Stone's latest documentary sees him travel to Venezuela and explore the recent leftward tilt in South American politics. [Odeon Panton Street & Nationwide / 15]
> DVD and Blu-ray releases for this week including Picnic at Hanging Rock and Stop Making Sense
> Get local cinema showtimes for your area via Google Movies