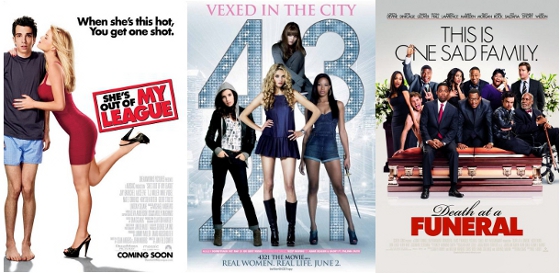 [ad]
NATIONAL RELEASES
She's Out Of My League (Paramount): A romantic comedy about a dweeby airport worker (Jay Baruchel) who forms an unlikely relationship with a glamourous event organiser (Alice Eve).
Mixed reviews and box office in the US might mean limited box office prospects for this comedy, which is being released in a period where the big studios are doing their best to avoid the World Cup. [Vue West End, Nationwide / 15]
4.3.2.1 (The Works): Writer, director and actor Noel Clarke tries to broaden his appeal from the Kidulthood films with this heist tale set in the US and UK.
Starring Clarke, Emma Roberts, Tamsin Egerton, Mandy Patinkin and Kevin Smith (as himself), it could tap into the audiences that made Kidulthood and Adulthood successes here in the UK. [Odeon West End & Nationwide / 15]
Death At A Funeral (Sony Pictures): The US remake of the 2007 British comedy about a day in the life of an American family as they gather for a funeral.
Directed by Neil LaBute and featuring an ensemble cast including Chris Rock, Martin Lawrence, Zoe Saldana, James Marsden, Danny Glover and Luke Wilson. The mixed reviews and the fact that this is being release in the pre-World Cup dead zone suggests that problems may be afoot. [Nationwide / 15]
ALSO OUT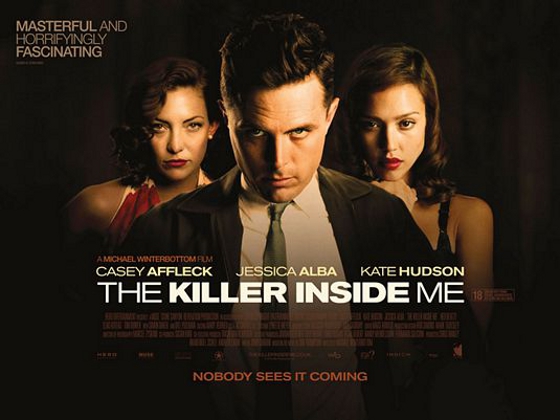 The Killer Inside Me (Icon): Adapated from Jim Thompson's 1952 novel about a deputy sheriff (Casey Affleck) in Texas, who is secretly a depraved sociopath, which has severe consequences for the people in his private life.
Directed by Michael Winterbottom and co-starring Jessica Alba and Kate Hudson, the film arrives on a wave of controversy due to the graphic violence towards women that has upset audiences at Sundance, Berlin and various critics. Icon will be glad it has got so much publicity here in the UK, although the tough material may put off art-house audiences. [Cineworld Haymarket, Curzon Soho, Odeon Covent Gdn. & Nationwide / 18]
The Brothers Bloom (Optimum Releasing): Despite screening at festivals in 2008, this quirky comedy caper is about two con-artist brothers (Mark Ruffalo and Adrien Brody) who try to rob a rich heiress (Rachel Weisz). Directed by Rian Johnson (who made Brich in 2005), it is a disappointing film given the talent involved and its box office prospects seem reduced from the poor buzz and reviews. [Curzon Soho & Nationwide / 12A]
Bear (Metrodome Distribution): A thriller about a grizzly bear spoiling a holiday trip into the woods. Directed by John Rebel, it stars Katie Lowes and Patrick Scott Lewis.
Girl On The Train (Soda Pictures): A French drama about a young woman who claims she was the target of an anti-Semetic attack, causing a media sensation. Directed by Andre Techine, it stars Emilie Dequenne. [Key Cities]
Kicks (New Wave Films): A British film about an introverted Liverpudlian teenager (Kerrie Hayes) and an aspirant WAG (Nichola Burley) who bond over a footballer they love. [Odeon Covent Garden & Key Cities / 15]
Shrink (Lionsgate UK): A US indie drama about a shrink (Kevin Spacey) who treats members of the entertainment industry in Hollywood. Directed by Jonas Pate, from a script by Thomas Moffett. [Apollo Piccadilly Circus / 15]
Videocracy (Dogwoof): Documentary about the Italian Prime Minister Silvio Berlusconi and his effect on his country's media and democracy. [Odeon Panton Street & Key Cities]
> DVD and Blu-ray Picks for Monday 31st May including The Book of Eli and The Damned United
> UK cinema releases for June 2010
> Get local cinema showtimes for your area via Google Movies