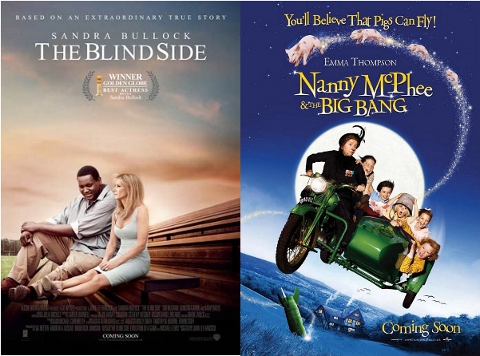 [ad]
NATIONAL RELEASES
The Blind Side (Warner Bros.): Sandra Bullock won her first Oscar for her role in this true life drama based on Michael Lewis' best-seller The Blind Side: Evolution of a Game. Michael Oher (Quinton Aaron) is a troubled teenager living on the streets when he is taken in by a conservative suburban family, led by the feisty Leigh Anne Tuohy (Bullock), who help him mature into a talented NFL player.
Directed by John Lee Hancock (The Rookie) it is an uplifting tale with Bullock on solid form, although it at times it struggles to avoid sports-movie clichés and overachieved in getting nominated for Best Picture. Warner Bros will be expecting a decent bounce from the Oscar win but US sports films usually struggle to do serious business in Europe. [Odeon West End & Nationwide / 12A]
Nanny Mcphee & The Big Bang (Universal): The sequel to the 2005 fantasy film sees Emma Thompson reprise the title role as the nanny tames an unruly household and seems to change as the children start behaving themselves.
In this film a mother (Maggie Gyllenhaal) has to deal with her tempestuous offspring, an up-to-no-good brother-in-law (Rhys Ifans) and an absent husband (Ewan McGregor), who's away fighting in World War II. Like the first film, it has a certain goofy charm but lacks a real spark of magic even though Universal will be expecting solid business from mostly family audiences. [Odeon West End & Nationwide / U]
[ad]
ALSO OUT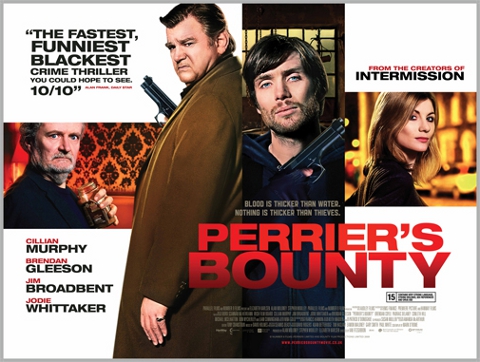 Perrier's Bounty (Optimum Releasing): An Irish crime thriller about a loser (Cillian Murphy) who owes a €1,000 to a loan shark (Brendan Gleeson). A decent supporting cast includes Jim Broadbent and Jodie Whittaker, although this looks like it is going to struggle to make an impact at the multiplexes. [Cineworld Haymarket, Vue Fulham & Nationwide / 15]
Lourdes (Artificial Eye): A drama about a wheelchair-bound woman (Sylvie Testud) who travels to the Catholic shrine of Lourdes, directed by Jessica Hausner. [Chelsea Cinema, Curzons Richmond & Soho, Renoir & Key Cities / U]
In The Land Of The Free (Mob Film Co/Roddick Foundation): A documentary about the imprisonment of Herman Wallace, Albert Woodfox and Robert King, three black men from rural Louisiana who were held in solitary confinement in the biggest prison in the U.S., an 18,000-acre former slave plantation known as Angola. [Apollo Piccadilly Circus, Ritzy & Key Cities / 15]
Lion's Den (Axiom Films): An Argentinian drama, directed by Pablo Trapero, about a pregnant student (Martina Gusman) sent to a special prison to await trial for a suspected murder.  [Curzon Soho, Odeon Panton St. & Key Cities]
Nightwatching (Axiom Films): Martin Freeman stars as Rembrandt in Peter Greenaway's exploration of the painter's great work, The Night Watch. [ICA Cinema & Key Cities]
No One Knows About Persian Cats (Network Releasing): A docu-drama about a group of twentysomething Iranian rock musicians trying to get permission to play a gig in London. [Cine Lumiere, Curzon Soho, Gate, Ritzy & Key Cities / 12A]
Shank (Revolver Entertainment): Another British crime drama about unruly teenagers. [Nationwide / 15]
Storm (Soda Pictures): A drama about a war crimes trial at The Hague focusing on a prosecutor (Kerry Fox) and the Serbian commander who may be responsible for murder in the former Yugoslavia. [Key Cities / 15]
> DVD and Blu-ray Picks for Monday 22nd March including Dumbo, Twin Peaks and Fish Tank
> Get local cinema showtimes for your area via Google Movies