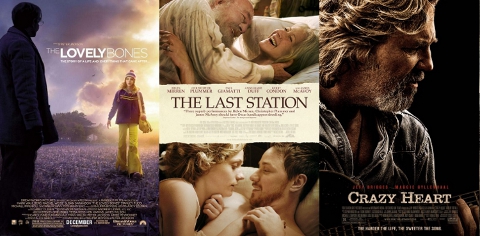 [ad]
NATIONAL RELEASES
The Lovely Bones (Paramount): The adaptation of Alice Sebold's unlikely bestseller is a major disappointment which flounders between CGI fantasy and awkward murder mystery. Set in Norristown, Pennsylvania in 1973, the story is about a young girl (Saoirse Ronan) who is raped and murdered by a neighbour (Stanley Tucci) and then watches the effects of her death on her parents (Mark Wahlberg and Rachel Weisz) and other people she has left behind.
When director Peter Jackson was first attached to this project (originally developed by Film4 in the UK) it seemed like he would be returning to the mix of real life horror and fantasy that made Heavenly Creatures (1994) so powerful. Alas, that wasn't to be and it seems like Jackson and regular scriptwriters Fran Walsh and Philippa Boyens had a hard time dialling down the emotion from their more recent big budget work (The Lord of the Rings, King Kong). Despite a stellar cast, the characters feel wildly overwrought and the 'in-between world' is essentially one empty CGI workout after another, with little emotion or genuine link to the drama.
Ronan and Tucci actually do very well in trying circumstances – they are easily the best thing about the film – but it is sad to see actors like Wahlberg, Weisz and Sarandon wasted on wafer thin roles. One can only assume that the tricky nature of the book led Jackson into a creative vortex he couldn't ultimately get out of, but whatever the reason it ranks as one of the most disappointing films of the year given all the talent involved. Paramount held this back for several months because they felt it could be an Oscar front-runner, but its chances died when people finally got to see it. It might still do OK business given the fan base of the book, but this is only likely to be remembered as a creative misfire. [Vue West End & Nationwide / 12A]
The Last Station (Optimum Releasing): A historical drama that portrays Russian author Leo Tolstoy (Christopher Plummer) and his struggle to balance fame and wealth towards the end of his life and the effects this has on his wife (Helen Mirren) and community of followers (including James McAvoy and Paul Giamatti).
Directed by Michael Hoffman, this is exactly the kind of period Oscar-bait that ageing Academy members drool over: distinguished actors, a historical-literary subject matter and a period setting. But it feels wildly out of date, something which Miramax might have put out in the late 90s, and is actually tedious to watch. Part of the problem is the cosy complacency of the script which doesn't allow for anything other than the most cursory and clichéd look at Tolstoy's life and ideas. The embarrassing dialogue he has given great actors (Mirren has two cringe-inducing scenes). Another problem in this post-Downfall age is the difficulty to suspend disbelief for the English accents in period Russia, which just make it feel like a stodgy BBC literary adaptation from the 1970s. [Picturehouse Clapham, The Gate & Nationwide / 15]
Crazy Heart (20th Century Fox): This drama about a veteran country singer (Jeff Bridges) who finds love and redemption is a charming and easygoing tale that seems likely to win Bridges his first Oscar.
On the face of it, this appears a well worn kind of film. For example, it bears remarkable similarities last year's The Wrestler, but manages to become something more than the sum of its parts. When we first meet Bad Blake (Jeff Bridges), he seems like just another washed up country singer, touring the backwaters of the US country circuit.
But as the story progresses, we meet characters who affect him in different ways: a journalist (Maggie Gyllenhaal, in her best role in some time) who he falls for; a former protege turned superstar singer (Colin Farrell) and an old bar owning friend (Robert Duvall).
Writer-director Scott Cooper manages to juggle familiar themes of redemption and loss, whilst avoiding contrived twists and sentimental claptrap. Bad's alcoholism, regret and attempts to establish a lasting relationship are just the simple struggles of life. By presenting them with little fuss, they gain a power and richness some filmmakers might have missed.
The music by T-Bone Burnett adds a wonderful musical texture to the drama and Bridges does an excellent job in performing them convincingly. Of course, the central talking point for most audiences will be his captivating central performance. It distills everything great about his distinguished career into one role: his easy charm, screen presence and intense like-ability are delivered here in one neat and memorable role.
This is a film with mostly good people. The 'villains', if one can call them that, are simply the grinding challenges of everyday existence. Much of the pleasure comes from seeing how the characters deal with what we all face: old age, disappointment and our own nagging doubts. [Vue West End / Nationwide from March 5th / 15]
Solomon Kane (Entertainment): Based on the character created by Robert E. Howard in 1928, this stars James Purefoy in the title role as a 16th century soldier who must fights demons and seek redemption or have his soul damned to Hell. [Nationwide / 15]
[ad]
ALSO OUT
A Closed Book (Eyeline Ent/Atlantic Film): Chilean director Raoul Ruiz is behind this story about a blind art critic (Tom Conti) and his personal assistant (Daryl Hannah). [Selected cinemas / 15]
The Headless Woman (New Wave Films): An acclaimed Argentinian film directed by Luis César Amadori and starring Niní Marshall. [Key Cities / 12A]
The Unloved (ICA Films): Samantha Morton's directorial debut feature is drama about a young girl growing up in a children's home. [ICA Cinema & Selected Key Cities]
Celine: Through The Eyes Of The World (Sony Pictures): Yes, a live concert film of Celine Dion is being unleashed at cinemas up and down the land. Christ. [Selected Cinemas Nationwide / PG]
> DVD and Blu-ray Picks for Monday 15th February including Up, The Go-Between and The Ladykillers
> Get local cinema showtimes for your area via Google Movies