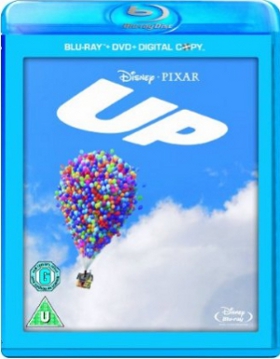 Up (Disney): The latest animated film from Pixar continues their extraordinary run of success with a superbly crafted odd-couple adventure which deservedly reaped huge critical acclaim and box office success.
Carl Fredricksen (Ed Asner) is a widowed ex-balloon salesman who, at the age of 78 and threatened with eviction, decides to go on an adventure by tying hundreds of balloons to his house and flying off to South America.
When he discovers mid-flight that a persistent young Junior Wilderness Explorer named Russell (Jordan Nagai) is on board, they embark on a journey which takes them to the jungle, where they encounter various creatures and a mysterious explorer (Christopher Plummer) from the past.
Pixar have become so good at feature length animation that it's easy to take their brilliance for granted: the visuals are vibrant, imaginative and beautifully rendered; the characters are wonderfully crafted – from the contrasting leads to the supporting cast of exotic birds and talking dogs – and the expert pacing makes the 89-minute running time fly by.
Directed by Pete Docter, who was also behind 'Monsters, Inc.' (2001) as well as co-writing 'Toy Story' (1995) and 'WALL-E' (2008), it is the second highest grossing Pixar film (after Finding Nemo).
Much of the appeal was almost certainly cross-generational, with much of the comedy coming from the clash between grumpy old Carl and the naively innocent Russell.
The use of colour, from the balloons to the creatures and plants in the jungle, is as good as any Pixar film and gave it a captivating quality well suited both to 3D in the cinema and Blu-ray in the home.
The physical comedy, especially scenes involving a bird named Kevin and a talking golden retriever called Dug, is also a real treat, providing a lot of laughs and charm.
There is also a wordless sequence near the beginning which is among the most perfect I've ever seen in a mainstream film: over just five minutes, a whole marriage is portrayed with incredible economy and deep reserves of emotion.
Michael Giacchino's score is his best yet for Pixar, with the melodies and instrumentation managing to complement the energetic set pieces and quieter moments with considerable skill and class.
If I had one complaint, it would be that when the film enters into the final act, it evokes a feeling of deja vu with the action seeming a little formulaic (e.g. characters fighting, getting out of scrapes in the nick of time).
The transfer for the Blu-ray is also a marvel to behold. Animated films benefit from coming from a digital source, which means unlike some of their celluloid counterparts, there is no digital noise, grain or flaws to speak of.
Gary Tooze at DVD Beaver has posted some screen grabs here.
Disney are releasing it on DVD and Blu-ray in the following packages:
DVD Deluxe
Theatrical Short, Partly Cloudy
Exclusive Short, Dug's Special Mission
Home Theatre Maximizer
Director Commentary w/ Pete Docter & Bob Peterson
Feature Documentary, Adventure is Out There
Alternate Scene, The Many Endings of Muntz
Learn How to Take Your Favourite Movies on the Go
Blu-ray Disc One
Cine-Explore
Easter Egg, The Egg
Blu-ray Disc Two
Global Guardian Badge Game
Documentaries:
Geriatric Hero
Canine Companions
Russell: Wilderness Explorer
Our Giant Flightless Friend, Kevin
Homemakers of PIXAR
Balloons & Flight
Composing for Characters
Alternate Scene, Married Life
Promo Montage
Trailer #2
Trailer #3
> Buy Up at Amazon UK on DVD or Blu-ray
> IMDb Entry