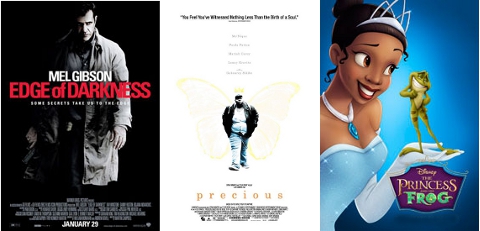 Edge of Darkness (Icon): Mel Gibson returns with his first leading role in several years in this adaptation of the BBC TV series of the same name. He plays a Boston homicide detective who uncovers a shadowy political conspiracy after his activist daughter (Bojana Novakovic) is killed.
Directed by Martin Campbell, who also made the original series, it co-stars Ray Winstone and Danny Huston. Although a functional thriller, it compresses six episodes of television into a two hour film and loses a lot in translation despite the best efforts of all concerned. [Nationwide / 15]
Precious: A Novel by Sapphire (Icon): An adaptation of the 1992 novel Push by Sapphire which depicts the struggles of an obese, illiterate teenage girl (Gabourey Sidibe) as she dreams of a better life away from her abusive mother (Mo'Nique) in Harlem circa 1987.
Since premièring at Sundance last year, this has been a hit on the festival circuit and is a shoo-in for BAFTA and Oscar nominations, with Monique odds on to win the Best Supporting Actress. Directed by Lee Daniels, it contains some excellent performances, especially Sidibe and Monique although parts of it don't work, especially the fantasy sequences. [Selected cinemas Nationwide / 15]
The Princess and the Frog (Walt Disney): Disney return to hand drawn animation with this loose adaptation of E. D. Baker's novel The Frog Princess, which itself was inspired by the Grimm fairy tale "The Frog Prince". The story involves a young girl named Tiana (Anika Noni Rose) who lives in New Orleans' French Quarter during the Jazz Age and a prince (Bruno Campos) under a curse.
Directed by John Musker and Ron Clements (who made The Little Mermaid, Aladdin, Hercules, and Treasure Planet), it features songs and score by Randy Newman and the voices of Anika Noni Rose, Oprah Winfrey and Keith David. [Empire Leicester Square & West End / U] * Nationwide from 5th February *
[ad]
ALSO OUT
Breathless (Terracotta Distribution): A South Korean gangster film directed by Yang Ik-Joon, who also stars as a bitter and abusive debt collector. [ICA Cinema & Key Cities]
Adoration (New Wave Films): A belated UK release for this 2008 Canadian drama from director Atom Egoyan about a high school student who weaves his family history into a news story involving terrorism. [Key Cities / 15]
Late Autumn (bfi Distribution): A BFI reissue for this 1960 drama directed by Yasujiro Ozu which stars Setsuko Hara and Chishu Ryu in the tale of three older men who help the widow of a late friend to marry off her daughter. [BFI Southbank & Key Cities / PG]
Our Beloved Month Of August (Cine Lumiere): A Portuguese comedy directed by Miguel Gomes, set against the backdrop of the Pardieiros dance-music festival. [Cine Lumiere / 12A]
[ad]
> Check out all the UK cinema releases for January 2010
> DVD and Blu-ray Picks for Monday 25th January including Magnolia and Fish Tank
> Get local cinema showtimes for your area via Google Movies