NATIONAL RELEASES
Ninja Assassin (Warner Bros.): A martial arts action-adventure film directed by James McTeigue and starring Rain as one of the world's deadliest Special Forces Ninja assassins.
The film was produced by Joel Silver and the Wachowski brothers and judging from the negative reviews doesn't appear to be in any danger of winning awards or reshaping the landscape of 21st century cinema. [Nationwide /18]
Armored (Sony): An action film about a guard for an armored truck company who is coerced by his veteran coworkers to steal a truck containing $10 million.
Directed by Nimród Antal, it stars Matt Dillon, Jean Reno and Laurence Fishburne and it would appear to be a genre film that Sony hope will appeal to undemanding audiences. [Nationwide / 12A]
Brothers (Lionsgate UK): An drama starring Tobey Maguire and Jake Gyllenhaal as two brothers involved in a love triangle with one of their wives (Natalie Portman) after one of them returns from military service in Afghanistan.
Directed by Jim Sheridan, the film is based on Susanne Bier's 2004 Danish film Brothers (Brødre) which takes place in Afghanistan and Denmark. Both films take inspiration from Homer's epic poem The Odyssey. [Nationwide / 15]
The Boys Are Back (Walt Disney):  An adaptation of Simon Carr's serio-comic novel "The Boys Are Back in Town" which sees Clive Owen play a sports writer becomes a single parent in tragic circumstances while struggling to raise his two sons.
Directed by Scott Hicks, tepid word of mouth mean that this is likely to come and go at cinemas very quickly. [Vue West End & Nationwide]
Toy Story 2 3D (Walt Disney): A reissues in 3D for the 2000 Pixar sequel to Toy Story, in anticipation of the third part which is out this summer. [Nationwide / U]
[ad]
ALSO OUT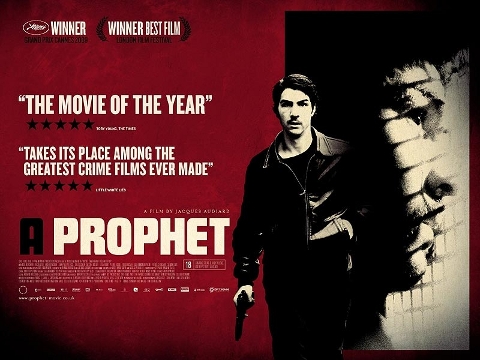 A Prophet (Optimum): A scintillating French crime drama directed by Jacques Audiard about a young Arab prisoner (Tahar Rahim) who gradually learns how power inside works thanks to a crime boss (Niels Arestrup) who runs an empire from his cell.
Superbly written and directed, it contains two terrific lead performances and a raft of classic scenes which linger in the memory. Since premièring at Cannes back in May it has rightly attracted a wave of critical acclaim on the festival circuit and is probably one of the best films of its kind in years. [Curzon Soho, Odeon Covent Gdn., & Nationwide / 18]
Blur: No Distance Left To Run (Arts Alliance): A documentary about the British rock band Blur, which follows the band during their 2009 reunion and tour, and also includes unseen archive footage and interviews. [London & Nationwide]
Burlesque Undressed (More2Screen): A documentary about 'the art' of stripping produced by its subject, Kelly Fletcher, aka Immodesty Blaize. [Empire Leicester Square, Odeon Covent Garden & Key Cities / 15]
Veer (Eros): A Bollywood epic directed by Anil Sharma, set in 1825 when the British were ruling India, starring Salman Khan, Mithun Chakraborty, Sohail Khan and Jackie Shroff. [C'Worlds Feltham, Ilford, Shaftesbury Ave., Odeon G'wich & Nationwide]
[ad]
> Check out all the UK cinema releases for January 2010
> DVD and Blu-ray Picks for Monday 18th January including Dr Strangelove and (500) Days of Summer
> Get local cinema showtimes for your area via Google Movies