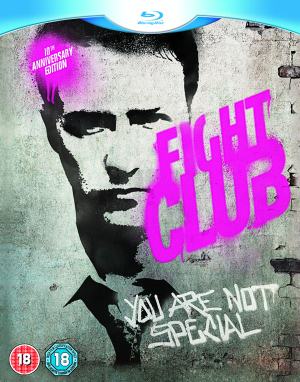 A Blu-ray only re-release for Fight Club (Fox) is a 10th Anniversary Edition of the the 1999 film based on the book by Chuck Palahniuk.
Directed by David Fincher it stars Edward Norton and Brad Pitt as disaffected males who bond over their disgust at (what was then) modern society by creating an underground club where men beat each other up.
Although I'm not the kind of die-hard fan to name this as one of the greatest films of the 90s (they do actually exist) it remains a skilful and intriguing mainstream film dealing with such issues as consumerism and terrorism in a sly and unnerving way.
Norton and Pitt both impress in the leads whilst Fincher brings his trademark visual flair to the screen. Apparently Fox's owner Rupert Murdoch was appalled when he saw the film and it is hard to imagine such a project even being greenlit today by a mainstream studio.
The climax, which eerily foreshadows the events of 9/11, subject matter and subversive humour led to it causing a stir when it premièred at the Venice film festival in 1999.
In time it became much more successful on DVD and now the Blu-ray release should appeal directly to its significant fanbase.
Fincher himself supervised the transfer and included some bizarre touches in the spirit of the film (e.g. the menu is not what you might expect).
The general vibe on this disc is positive with Gary Tooze of DVD Beaver saying:
This surely is the best of all editions with a vastly superior image, flawless audio and old – as well as new – extras. Like it or love it – the film is an unforgettable ride and a milestone in the careers of the director and two lead stars.

This Blu-ray surely replicates the theatrical experience better than ever before for your home theater. An impressive amount of effort has gone into this 20th Century Fox release and for anyone, even remotely, keen on the film – we are highly recommending it as the definitive way to see David Fincher's inventive, surprising and subversive Fight Club.
He also has comparison screen shots of the DVD and Blu-ray versions here.
The technical specs are:
1080P / 23.976 fps Dual-layered Blu-ray
Disc Size: 46,278,055,124 bytes
Feature: 34,166,661,120 bytes
Video Bitrate: 23.45 Mbps
Codec: MPEG4 AVC Video
The extras have some new elements which include:
A Hit In The Ear: Ren Klyce and the Sound Design of Fight Club (New)
Welcome To Fight Club
Angel Faces Beating
The Crash
Tyler's Goodbye
Flogging Fight ClubNew Insomniac Mode: I Am Jack's Search Index, Commentary Log, Topic Search (New)
Guys Choice Award (New)
Work: Production, Visual Effects, On Location (New)
Edward Norton Interview (New)
Commentary by David Fincher
Commentary by David Fincher, Brad Pitt, Edward Norton and Helena Bonham Carter
Commentary by Chuck Palahniuk and Jim Uhls
Commentary by Alex McDowell, Jeff Cronenweth, Michael Kaplan and Kevin Haug
Seven Deleted Scenes and Alternate Scenes
Theatrical Teaser, Theatrical Trailer, The Eight Rules of Fight Club
12 TV Spots
Public Service Announcements
Music Video
Five Internet Spots
Promotional Gallery
Art Gallery
Fight Club is out now on Blu-ray from 20th Century Fox
> Buy the Fight Club Blu-ray from Amazon UK
> Fight Club at the IMDbub, david fincher