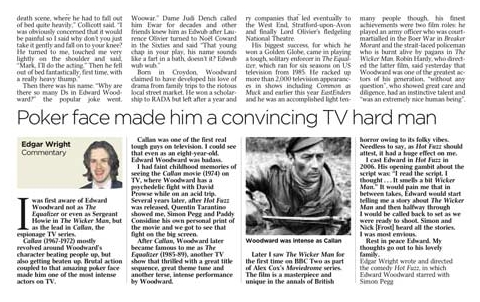 Director Edgar Wright recently penned a moving tribute to the late Edward Woodward on his blog only to see it turn up without permission in The Times.
I read a trimmed down version of it in Tuesday's print edition and assumed that the man behind Shaun of the Dead, Hot Fuzz and TV's Spaced had given the go ahead for them to run it.
Only he wasn't actually aware of it and was understandably less than happy that the newspaper had copied and re-edited his article without even asking him.
As he said on his Twitter feed: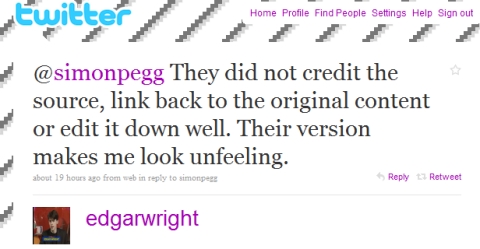 In a succession of tweets he points out that:
I took great care in writing my tribute. I didn't ask some writer with a deadline to copy it and gut it of all feeling.

…they edited out the last time I saw him. My last remembrance of him.

I didn't know about it until I did an interview with 'The Last Word' and they said "We saw your piece in the Times".

For the record, I don't want compensation. But an apology, a reprint of the full tribute and donation to Edward's memorial would be nice.
In reply, another Twitter user (unloveablesteve) also points out that they give away the ending of The Wicker Man for good measure:
See also the Times tribute which gives away the end of The Wicker Man in its one-sentence summary of the plot.
Would it really have been that hard for someone at The Times to contact the director and ask for a quote, or even credit his blog without making out that he was a contributor?
The paper has since run a clarification on their website: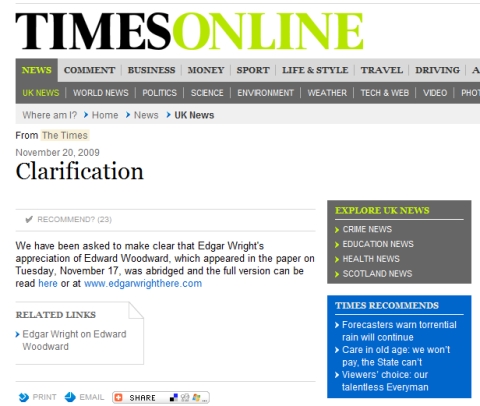 All this is rather ironic given that Times editor James Harding has recently been giving his opinions on newspapers and the web.
They plan to start charging for their content in the near future as Times owner Rupert Murdoch hates 'online theft'.
Hopefully part of their strategy won't involve copying other people's freely available work without credit, misleading readers and then charging them for the privilege.