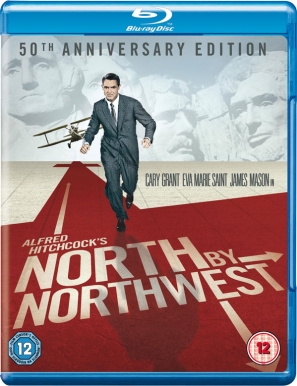 Alfred Hitchcock's classic thriller North by Northwest is finally available on Blu-ray.
The espionage caper starring Cary Grant, Eva Marie Saint and James Mason has been newly remastered in 1080p from original VistaVision film elements.
One of Hitchcock's finest and most purely enjoyable films, this suspenseful cross-continental chase has equal doses of tension and wit wrapped up in an insane plot.
Memorable for the chemistry between Cary Grant and Eva Marie Saint, the famous crop-dusting sequence and the climax on Mount Rushmore, it influenced a generation of filmmakers and along with Psycho, Rear Window and Vertigo stands as one of his signature works.
As usual with Hitchcock at his peak, it can be enjoyed as slick entertainment and rigorously examined for intellectual meaning – chin-stroking academics and French intellectuals will no doubt have a field day with the references to Cold War paranoia, Freud and other motifs that litter Hitchcock's films.
Grant is perhaps the best he's ever been as the breezy protagonist, mixing charm and unease (Mad Men fans should note that he's a Manhattan advertising executive) whilst Saint is pitch perfect as the icy Hitchcock blonde.
The arrival of North by Northwest on Blu-ray is significant as it is the first of Hitchcock's films to get the full HD re-release treatment.
Although originally released by MGM, Warner Bros now have the distribution rights and they have scanned the original VistaVision production elements in an 8K resolution.
The resulting presentation has a much improved depth of field and clarity which has prompted highly positive reviews from The Digital Bits and DVD Beaver (the latter has screen shot comparisons of the Blu-ray and DVD versions).
The extras on the Blu-ray are as follows:
1080P Widescreen
English 5.1 Dolby TrueHD
French, German, Italian, Spanish and Portuguese DD1.0 Mono
Subtitles (Film & Extras except commentary): English, French, German, Italian, Spanish, Castilian, Portuguese, Danish, Finnish, Norwegian, Swedish
Commentary by Ernest Lehman
Cary Grant: A Class Apart (2003 TCM Documentary)
Documentary – The Master's Touch: Hitchcock's Signature Style (NEW)
Documentary: North by Northwest: One for the Ages (NEW)
Music only track (DD5.1)
Destination Hitchcock: The Making of North by Northwest hosted by Eva Marie Saint
Stills Gallery
Trailers
TV Spot
A Guided Tour with Alfred Hitchcock
Theatrical Trailer
* No DVD release is currently scheduled for the UK market *
> Buy North By NorthWest on Blu-ray at Amazon UK
> North By Northwest at the IMDb
> Find out more about Alfred Hitchcock at Wikipedia