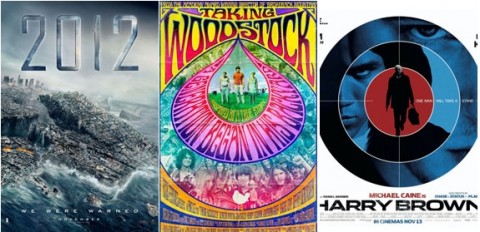 [ad]
NATIONAL RELEASES
2012 (Sony): The latest CGI disaster-porn blockbuster from director Roland Emmerich is based on the idea that the world will end in 2012 due to an ancient Mayan prophecy.
A large group of people have to deal with the apocalypse: alarmed scientists (Chiwetel Ojiofor and Jimi Mistry) discover the disaster; an everyday guy (John Cusack) struggles to protect his family amidst the chaos; the US president (Danny Glover) tries to be stoic; the chief of staff (Oliver Platt) enacts a secret plan for survivors and lots of people die. Although it is a ludicrous, overblown roller coaster of a film, Sony can expect a huge box office haul for what is essentially a delayed Summer blockbuster. Read my more considered thoughts on the film here. [Nationwide / 12]
Taking Woodstock (Universal): A comedy-drama based on the memoir Taking Woodstock: A True Story of a Riot, a Concert, and a Life by Elliot Tiber, it explores a story related to the famous music festival in 1969.
Directed by Ang Lee from a script by James Schamus, it stars Demetri Martin, Imelda Staunton, Henry Goodman, Liev Schreiber, Emile Hirsch and Paul Dano. Despite premiering at the Cannes film festival earlier this year a combination of moderate reviews and tepid word of mouth means it probably won't make too much of an impact here. [Apollo Picc Circus, Curzon Soho, Empire, Odeon Covent Gdn. & Nationwide / 15]
Harry Brown (Lionsgate UK): An elderly ex-serviceman and widower (Michael Caine) looks to avenge his best friend's murder by doling out his own form of justice on a contemporary South London estate.
Although Caine has been doing the rounds promoting this film, it could struggle against the juggernaut of 2012, its restrictive 18 certificate and the fact that it looks like a poor man's Gran Torino. [Nationwide / 18]
Amelia (20th Century Fox): A look at the life of legendary American pilot Amelia Earhart (Hilary Swank) who disappeared while flying over the Pacific Ocean in 1937 in an attempt to make a flight around the world.
Although once touted as a possible Oscar contender, some brutal US reviews and distinct lack of buzz mean this will be a short flight at cinemas for this biopic directed by Mira Nair. [Nationwide / PG]
IN LIMITED RELEASE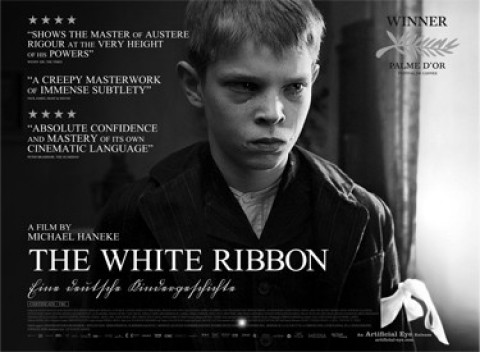 The White Ribbon (Artificial Eye): Director Michael Haneke returns with this sparse and chilling tale of strange goings on in a German village during 1913-14.
When one of the villagers begins to suspect that the blonde, blue-eyed children may have something to do with dark atmosphere engulfing the community, the film becomes a meditation on how their generation would embrace the Nazis and Hitler.
It premièred to huge acclaim at this year's Cannes film festival, winning the Palme D'Or and is also a refreshing change of pace for Haneke after the US remake of Funny Games.
Shot in stark black and white without any score (reminiscent of Peter Brook's film version of King Lear), it is a disturbing and unsettling experience, which will linger with audiences prepared to give their full attention. A brilliant portrait of the subtle roots of social evil and one that should do healthy arthouse business. [BFI Southbank, Curzons Mayfair, Richmond & Nationwide / 15] * Find out where it is showing here *
Cold Souls (The Works): A quirky indie film with Paul Giamatti playing a man in search of his soul.
The lack of buzz would suggest a Charlie Kaufman-style experiment gone wrong and a minor dent in the UK box office this week. [Curzon Soho & Key Cities / 12A]
We Live in Public (Dogwoof Pictures): A documentary focusing on the life of dot-com entrepreneur Josh Harris, and his exploits over the last decade.
Something of a hit at Sundance earlier this year, it will get a limited release at UK cinemas but positive online buzz will perhaps lead to greater success on DVD. [Greenwich Picturehouse, Odeon Panton St., Ritzy & Key Cities / 15]
The Magic Hour (104 Films): The story of a hustler who gets in trouble with a gang boss in the port town of Sukago agrees to make good with the don by putting him in contact with a mysterious hitman. [Curzon Soho & selected Key Cities / 15]
Tulpan (New Wave Films): Set in Kazakhstan, the film follows the journey of a recently discharged Russian sailor who visits his sister along with her older husband and their three children. [New Wave Films / 12A]
> UK cinema releases for November 2009
> Get local showtimes via Google Movies UK
> DVD & Blu-ray picks for this week including Bruno, Gone With The Wind, Heat and Snow White & The Seven Dwarves (W/C Monday 9th November 2009)