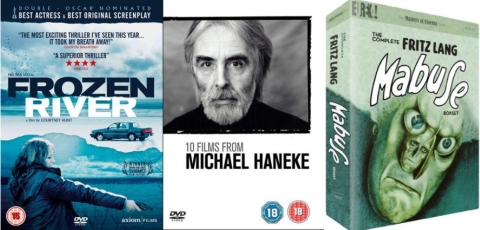 [ad]
DVD & BLU-RAY PICKS
Frozen River (Axiom Films): An deservedly acclaimed American indie drama about a desperate single mother (Melissa Leo) living in upstate New York who resorts to smuggling illegal immigrants into the United States as a means of making ends meet. Written and directed by first-timer Courtney Hunt, it co-stars Misty Upham and Charlie McDermott. Winner of the Grand Jury Prize for Best Dramatic Feature at the 2008 Sundance Film Festival, it is well worth seeking out, especially for Leo's performance which won her an Oscar nomination earlier this year. Axiom Films are releasing it on DVD priced at £15.99 (RRP) and on Blu-ray.
Features include:
1.78:1 Anamorphic Widescreen
English DD2.0 and DD5.1 Surround
Exclusive interviews with writer/director Courtney Hunt and star Melissa Leo
Stills gallery
Trailer
English subtitles for hearing impaired (feature only)
The Essential Michael Haneke (Artificial Eye): A substantial 10-disc box set entitled of the Austrian director's work which includes all his previously released films including both the original and American re-make of Funny Games, his breakthrough film, and his adaptation of The Castle, based on the unfinished novel by Franz Kafka, which is released for the first time in the UK as part of this set.
The collection contains the following:
The Seventh Continent
Benny's Video
71 Fragments of a Chronology of Chance
Funny Games (Original)
The Castle
Code Unknown
The Piano Teacher
Time of the Wolf, Hidden and Funny Games US.
Extra features on individual discs are identical to the original releases, with the addition of the previously unreleased documentary called '24 Realities per Second', which is a 60 minute documentary on Haneke and which has never been seen before on these shores.
At a whopping £74.99 it is pricey in these recessionary times, but this Haneke is one of Europe's most accomplished living directors. The release of this coincides with Artificial Eye's theatrical release of Haneke's Palme D'Or winning film, The White Ribbon. [Buy on DVD]
The Complete Fritz Lang Mabuse Boxset (Eureka/Masters of Cinema): Throughout his career director Fritz Lang built a trilogy of thrillers focused on an entity who began as a criminal mastermind, and progressed into something more amorphous: fear itself, embodied only by a name – Dr. Mabuse. For the first time on DVD, all three of Fritz Lang's Mabuse films have been collected for one package, in their complete and restored forms.
Dr. Mabuse, der Spieler [Dr. Mabuse, the Gambler] (1922) – Lang's two-part, nearly 5-hour silent epic detailing the rise and fall of Dr. Mabuse in Weimar-era Berlin.
Das Testament des Dr. Mabuse [The Testament of Dr. Mabuse] (1933) – A thriller with supernatural elements, all revolving around an attempt by the now-institutionalised Mabuse (or someone acting under his name and possibly his will) to organise an "Empire of Crime".
Die 1000 Augen des Dr. Mabuse [The 1000 Eyes of Dr. Mabuse] (1960) – Fritz Lang's final film, in which hypnosis, clairvoyance, surveillance, and machine-guns come together for a whiplash climax that answers the question: Who's channelling Mabuse's methods in the Cold War era?
A four-disc set, the features include:
Original German-language intertitles for 'Dr. Mabuse, der Spieler' along with newly translated English-language subtitles for each film
Newly recorded feature-length audio commentaries on all three movies by film-scholar and Fritz Lang expert David Kalat
Three video-featurettes totalling an hour-and-a-half in length on: the score of Dr. Mabuse, der Spieler; the creation of Norbert Jacques' "Mabuse" character; and the motifs running throughout the works
2002 video interview with Wolfgang Preiss, the star of Die 1000 Augen des Dr. Mabuse
An alternate ending to Die 1000 Augen des Dr. Mabuse taken from the French print of the film
Optional English-language dub track for Die 1000 Augen des Dr. Mabuse
3 lengthy booklets containing a new translation of Fritz Lang's 1924 lecture on "Sensation Culture"; an essay by critic and scholar Michel Chion on the use of sound in Das Testament des Dr. Mabuse; new writing on Die 1000 Augen des Dr. Mabuse by critic David Cairns; extracts from period interviews with Fritz Lang; an abundance of production stills, illustrations, and marketing collateral – and more.
All three films are presented in their complete and restored forms, refreshed and improved from previous Eureka releases of the first two films. Die 1000 Augen des Dr. Mabuse is released here for the first time ever on home video in the UK. [Buy on DVD]
[ad]
ALSO OUT
35 Shots of Rum (New Wave Films)
Columbo: The Complete Series (Universal Playback)
Darker Than Black Volumes 3 & 4 (Manga)
Devil May Cry (Manga)
Horsemen (Icon)
I Sell The Dead (Anchor Bay)
King of the Hill (Optimum)
New Town Killers (High Fliers)
Phantom & Die Finanzen des Großherzogs (Eureka/Masters of Cinema)
Rudo y Cursi (Optimum)
Staunton Hill (Anchor Bay)
24 Season 7 (Fox)
The Haunting of Molly Hartley (Icon)
The Holly & The Ivy (Optimum)
The Keeper (Optimum)
The Last House on the Left (2009) (Universal)
The Uninvited (Paramount)
X-Men Origins: Wolverine (Fox)
X: Volume 1 (MVM)
> Browse more DVD Releases at Amazon UK and Play
> Check the latest DVD prices at DVD Price Check
> Take a look at the current UK cinema releases (W/C Friday 16th October)