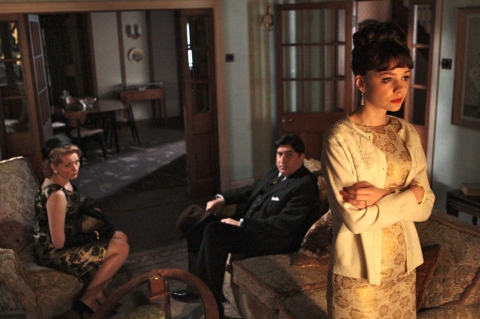 Coming of age dramas can often fall prey to cliché or sentimentality but An Education manages to avoid avoid such pitfalls to become something really special.
Based on journalist Lynn Barber's memoir of growing up in the early 1960s, it explores the life lessons learnt by a 16 year old girl named Jenny (Carey Mulligan) as she falls for an older man (Peter Sarsgaard) and the glamorous lifestyle he appears to offer her.
Skilfully directed by Lone Scherfig from an intelligent and heartfelt script by Nick Hornby, it evokes the charming drabness of the period whilst accurately depicting the emotional minefield that teenage years can be.
Although similar stories have been told before what makes this one stick out is the quality of the writing and the way in which the principal players really sink their creative teeth into it.
Carey Mulligan is already being tipped as a major star on the basis of her performance here and such hype is largely justified. She has the raw acting presence casting directors kill for and manages to combine deep emotions with an easygoing charm, skilfully moving between the two.
Peter Sarsgaard provides a smooth foil and largely convinces as a smooth talking Englishman, even if his accent sometimes wavers; Alfred Molina and Cara Seymour make amusingly naive parents; and Rosamund Pike hits just the right note as one of Jenny new 'sophisticated' friends.
Nearly all the characters are nicely drawn: instead of the one-note stereotypes that often litter British made films, they often have hidden sides that are slowly revealed, faults which are understandable and aren't solely defined by their class and background.
Two of the minor characters who especially stand out are Olivia Williams as a teacher at Jenny's school and Emma Thompson as a stern headmistress. Both have limited screen time, but make a considerable impact in roles with hidden depths.
Period pieces can sometimes be an excuse for cheap nostalgia but one of the clever ideas here is how the dawning of the 1960s is almost used as a metaphor for teenage years themselves, when contemporary music, films and culture feel particularly special.
Scherfig moves things along at a nice pace and perhaps her outside perspective (she's a Danish director who came to notice with the Dogme95 movement) give the film its passion and energy whilst Hornby's script throws up a highly pleasing mixture of laughs and emotions.
The period detail of the early 60s is evoked with some sterling contributions from the technical side, notably production designer Andrew McAlpine, costume designer Odile Dicks-Mireaux and cinematographer John de Borman.
There is the occasional misstep, notably a jarring voice over at the close, but for the most part this a rare kind of British film: one that feeds the brain, touches the heart and tickles the funny bone.
It looks highly likely to be an awards season contender (and a virtual shoo-in for the BAFTAs) but it will be interesting to see how it fairs at the box office.
No doubt UK distributor E1 Films can expect very good critical buzz in the UK later this month (presumably aided by a blitz of Carey Mulligan profiles in Sunday newspapers) but the US roll-out will be trickier.
Sony Pictures Classics snagged the US distribution rights at Sundance back in January and they'll be giving it a platform release although how it will do in the current climate remains an open question.
My guess is that it will do well enough to create the awareness for Oscar season but fingers will be crossed, given how smaller, acclaimed films (such as The Hurt Locker) have not really broken through this year.
An Education opens in the US on October 9th and the UK on October 30th