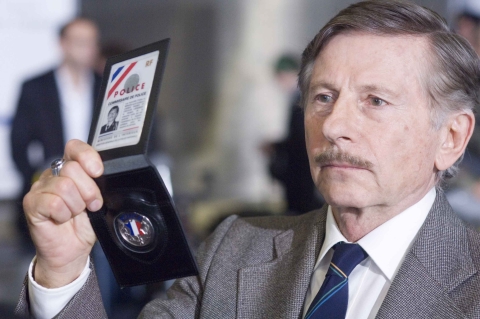 Director Roman Polanski has been arrested in Zurich and faces possible extradition to the US for having sex with a 13-year-old girl in 1977.
The 76 year old was detained on Saturday as he travelled from France to the Zurich Film Festival, where he was to collect a lifetime achievement award.
The Swiss ministry spokesman Guido Balmer told the Associated Press that U.S. authorities have been seeking Polanski's arrest since 2005:
"There was a valid arrest request and we knew when he was coming. That's why he was taken into custody."
Polanski is currently being held under 'provisional detention for extradition', but won't be transferred to U.S. authorities until all the procedural boxes have been ticked and the director can contest his detention and any possible extradition in the Swiss courts.
The original case dates back to the late 1970s when the director was involved in a scandal involving a 13-year old girl named Samantha Gailey, now known as Samantha Geimer.
According to Geimer, Polanski asked her mother if he could take photos of the young girl for French Vogue, which the director had been asked to guest edit and her mother allowed a private photo shoot.
She then agreed to a second session on March 10th, 1977 which took place at the home of Polanski's friend Jack Nicholson in the Mulholland area of Los Angeles.
Later Geimer testified that at this Polanski performed various sexual acts on her, after giving her a combination of champagne and Quaaludes.
In a 2003 article for the LA Times Geimer described what happened:
I met Roman Polanski in 1977, when I was 13 years old. I was in ninth grade that year, when he told my mother that he wanted to shoot pictures of me for a French magazine.

That's what he said, but instead, after shooting pictures of me at Jack Nicholson's house on Mulholland Drive, he did something quite different. He gave me champagne and a piece of a Quaalude. And then he took advantage of me.

It was not consensual sex by any means. I said no, repeatedly, but he wouldn't take no for an answer. I was alone and I didn't know what to do. It was scary and, looking back, very creepy.

Those may sound like kindergarten words, but that's the way it feels to me. It was a very long time ago, and it is hard to remember exactly the way everything happened. But I've had to repeat the story so many times, I know it by heart.
The original charges against Polanski when he was arrested in March 1977 were: giving Quaaludes to a minor; child molestation; unlawful sexual intercourse with a minor; rape by use of drugs; oral copulation and sodomy.
Polanski never denied the charges, but in the legal negotiations that followed they were dismissed under the terms of a plea bargain by which he pleaded guilty to unlawful sex with a minor.
After 42 days' in prison over the winter of 1977-78, Polanski was passed as fit to stand trial and reportedly expected that he would be freed under a deal with the presiding judge, Laurence J. Rittenband.
Geimer also recounted in her 2003 piece that this deal – agreed between the defence, prosecution and judge – was reneged upon at the last minute:
We pressed charges, and he pleaded guilty. A plea bargain was agreed to by his lawyer, my lawyer and the district attorney, and it was approved by the judge. But to our amazement, at the last minute the judge went back on his word and refused to honor the deal.

Worried that he was going to have to spend 50 years in prison — rather than just time already served — Mr. Polanski fled the country. He's never been back, and I haven't seen him or spoken to him since.

Looking back, there can be no question that he did something awful. It was a terrible thing to do to a young girl. But it was also 25 years ago — 26 years next month. And, honestly, the publicity surrounding it was so traumatic that what he did to me seemed to pale in comparison.
It was when Polanski got wind that Rittenband was ready to break the agreement – allegedly due to fears of a public backlash – he flew to London in February 1978 and a day later fled to France.
To this day he has never returned to the US for fear of arrest or travelled to certain countries with extradition treaties.
He subsequently moved to France, where he has lived ever since and currently holds citizenship, protected by their limited extradition policies with US.
Since then he has made all his films in Europe, which have included Tess (1978), Pirates (1986), Frantic (1988), Bitter Moon (1992), Death and the Maiden (1994) and The Pianist (2002).
When he won Best Director for The Pianist at the Oscars in March 2003, Harrison Ford collected the award on his behalf and there was even a standing ovation.
That response is reflective of many in Hollywood, who still revere him as one of the great post-war directors: the Polish refugee who overcame Nazi and Communist oppression to direct such landmark films as Repulsion (1965), Rosemary's Baby (1968) and Chinatown (1974).
Many there – although they don't always openly admit it – feel that Polanski was a great artist who had been through the double trauma of having his mother murdered by the Nazis at Auschwitz in 1942 and then his wife Sharon Tate brutally killed by the Manson gang in 1969.
Given where the 1977 incident happened, I'm sure that some stars and directors of that era who engaged in certain, illicit activities may well think that it could have easily been them in Polanski's position.
If we go back even further, the history of Hollywood is one riven with dark secrets which would occasionally bubble up to the surface in the cases of Fatty Arbuckle, William Desmond Taylor or, more recently, Robert Blake.
And this doesn't even begin to scratch the surface of what was going on in the 1970s when hedonism amongst some members of the showbiz community reached new heights – or lows, depending on your view – of excess.
Polanski's arrest probably functioned as a sobering wake up call to others in Hollywood, but it remains a polarising case.
Within the industry he is still enormously respected by his peers and colleagues. Two widely read blogs within Hollywood are reflective of opinion within Hollywood: Nikki Finke of Deadline reports that Polanski was 'double crossed by the Swiss', whilst Jeffrey Wells of Hollywood Elsewhere dismisses the case as being about 'largely discredited, over-and-done-with 1977 charge'.
However, a quick glance at the comments section on these websites will provide you with angry blasts of outrage at the fact that Polanski committed a crime and evaded justice for many years.
Defenders point out that the 2008 documentary Roman Polanski: Wanted and Desired, directed by Marina Zenovich, explored the case and highlighted "a pattern of misconduct and improper communications" between the district attorney's office and Judge Rittenband back in 1977.
Polanski's US lawyer wanted to use the evidence of judicial misconduct presented in the film in order to get the case dismissed and in a filing they said that the judge (now dead) violated the original plea bargain with communicating about the case with a deputy district attorney who was not involved.
The general picture painted by the film was that Polanski was unlucky to face a judge more interested in his own publicity than the rule of law, although detractors could argue that a bad judge doesn't absolve Polanski from the crime he comitted.
To make things even muddier, the Los Angeles County Superior Court alleged that the documentary contained an error when it screened on HBO:
The Los Angeles Superior Court is aware of a documentary on film director Roman Polanski scheduled to air tonight on HBO.

The documentary makes an assertion that a Los Angeles Superior Court judge attempted to impose a condition on a reported sentencing agreement in 1997 under which Polanski would have had to agree to his sentencing being televised.

This assertion concerning televising of the sentencing hearing is a complete fabrication, entirely without any basis in fact and completely unsupported by the court record.

No such condition was ever suggested or proposed by the judge in question, either in 1997 or at any other time.

The Los Angeles Superior Court has made HBO aware of this egregious error and believes the network intends to rectify this misstatement of fact later today.
Back in January of this year, Polanski's lawyer filed a further request to have the case dismissed, and to have it moved out of Los Angeles, as the courts there require him to be present there before any sentencing or dismissal.
In February 2009, Polanski's request was denied by Judge Peter Espinoza, who said that he would rule if Polanski appeared in court before him.
In addition to publicly forgiving him Samantha Geimer has called for the charges against him to be dismissed from court, saying that decades of publicity as well as the prosecutor's focus on lurid details (which The Smoking Gun published) continues to traumatize her and her family.
Now living in Hawaii, she even turned up at the US premiere of Wanted and Desired back in 2008.
In addition the French establishment are outraged at the arrest and possible extradition of the director with Culture Minister Frédéric Mitterrand saying that that he was 'stupefied':
"I strongly regret that a new ordeal is being inflicted on someone who has already experienced so many of them."
Even President Sarkozy called for a 'rapid solution' to the situation, which could be seen as a coded way of saying send him back to France as soon as possible.
But why was he arrested now? The LA Times reports that the LA County district attorney's office learned last week that Polanski was planning to travel to Zurich and they sent a provisional arrest warrant to the U.S. Justice Department, which then presented it to Swiss authorities.
He is being held under a 2005 international alert issued by the US and although he has been to Switzerland before, this time US authorities apparently knew of his trip in advance.
That gave them time to issue a provisional warrant for his arrest and send it to Swiss authorities.
It is still unsure whether he had had not known about Switzerland's extradition treaty with the US, or had assumed that the country's officials would turn a blind eye when he arrived in Zurich to receive an award for his work.
His agent Jeff Berg told BBC Radio 4's Today programme that the arrest was "surprising because Roman for the last 12, 15 years has lived in Switzerland, he has a home, he travels there, he works there".
Mr Mitterand also told France-Inter radio that he and his Polish counterpart Radek Sikorski have written to US Secretary of State Hillary Clinton, and said there could be a decision as early as Monday if a Swiss court accepts bail.
British novelist Robert Harris, who was set to work with the director on an adaptation of his novel The Ghost, described the arrest as "disgusting treatment" and said the production team were "reeling from the news".
The organisers of the festival, Nadja Schildknecht and Karl Spoerri, issued a statement saying they were shocked at the arrest of "one of the most extraordinary film-makers of our times".
If extradited Polanski could face a sentence of between 18 months and three years although his lawyer, Georges Kiejman, said he planned to challenge his client's arrest.
> BBC News report on his arrest in Zurich
> Peter Bradshaw and David Thomson of The Guardian analyse the story
> The Wikipedia page for Roman Polanski, which has been locked due to an edit war, still has useful references and links
> The Smoking Gun have the transcript of the grand jury minutes from 1977
> Lorenzo Semple (who worked with Polanski) and Marcia Nastir discuss Roman Polanski: Wanted and Desired