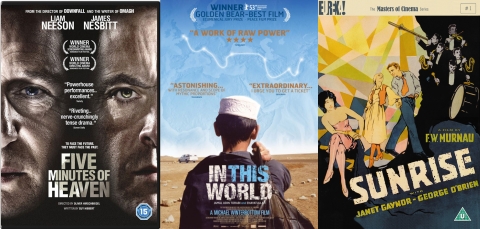 DVD & BLU-RAY PICKS
Five Minutes of Heaven (Element Pictures): Although UK audiences may have already seen it earlier this year on BBC2, this powerful drama about a perpetrator and victim of violence during the Troubles meeting decades later is worth catching on DVD, especially as it didn't have the publicity push here that a theatrical release provides (although IFC did distribute it in the US).
Inspired by true events, it begins with the murder of teenager in October 1975, witnessed by the victim's younger brother, and it sees the killer go to jail for 10 years.
Flashing forward to the future it then explores the imagined encounter between the killer (Liam Neeson) and the victim's brother (James Nesbitt), when they eventually meet for a television documentary 33 years after the murder.
Directed by Oliver Hirschbiegel, it features two excellent performances from Neeson and Nesbit and a script by Guy Hibbert that skilfully avoids many of the pitfalls involved in bringing episodes of The Troubles to the screen.
The title comes from Hibbert's research, which involved three years of interviews with the actual Alistair Little and Joe Griffin, which resulted in details of what might happen if they ever met in real life (which is unlikely). Griffin has said he'd probably kill Little, something he feels would provide "five minutes of heaven."
Although the subject matter is going to be a turn off to some viewers wanting an easy night in, the film represents another intelligent exploration of the dark and tortuous history of The Troubles, following such films as Hunger, Omagh and Bloody Sunday.
It is available on DVD and the features include:
Anamorphic Widescreen
English DD 2.0
Interviews
Trailer
In This World (ICA): Michael Winterbottom's 2002 docu-drama follows the journey of two young Afghan refugees, Jamal Udin Torabi and Enayatullah, as they travel from a camp in Pakistan for a better life in London.
The film does an impressive job of showing how difficult and fraught with danger the journey immigrants take and the fluid, hand-held style gives it an extra jolt of realism. Added to this is the clever use of non-professional actors who play fictionalised versions of themselves.
Although it played well at film festivals in 2002, even winning the Golden Bear at Berlin in 2003, the subject matter and style meant that it didn't set the box office alight. However, this re-issue on DVD by the ICA is well worth checking out.
Incidentally writer Tony Grisoni told me earlier this year that this was one of the best film experiences he ever had.
The feature is presented in Anamorphic widescreen with stereo sound and the extras include:
Trailer
A behind-the-scenes with Michael Winterbottom and Tony Grisoni documentary (31mins)
Filmographies
Stills gallery
Sunrise (Eureka/Masters of Cinema): F. W. Murnau's classic 1927 film is often a regular in lists of 'the greatest films ever made' and has long been considered to be the finest silent film produced by a Hollywood studio.
Based on the Hermann Sudermann novel 'A Trip to Tilsit', it is the tale of a peasant couple (George O'Brien and Janet Gaynor) threatened by a Machiavellian seductress from the city (Margaret Livingston).
A milestone of film expressionism, it was made in the twilight of the silent era and became something of a swan song for the vanishing medium.
It was met with instant acclaim and won three Oscars for Best Actress (Gaynor), Cinematography, and a never-repeated award for "Unique and Artistic Picture" (although Best Picture went out to the more financially successful Wings).
This reissue of Sunrise contains two versions of the film: the previously released Movietone version, and an alternate silent version of the film recently discovered in the Czech Republic. The Blu-ray edition includes both versions in 1080P and DVD Beaver has more technical details and screenshots here.
Priced at £22.99 RRP on DVD (2-Disc Special Edition) and £24.99 RRP on Blu-ray Disc, and the features are:
Restored high-definition transfers of two different versions: the American Movietone version, and the silent Czech version.
Original English intertitles on the Movietone version, and optional English subtitles on the silent Czech version.
Original Movietone score (mono) and alternate Olympic Chamber Orchestra score (stereo)
Full-length audio commentary by ASC cinematographer John Bailey on the Movietone version
Outtakes with either John Bailey commentary or intertitles
Murnau's 4 Devils: Traces of a Lost Film — Janet Bergstrom's updated 40-minute documentary about the lost Murnau film
Original theatrical trailer
Original 'photoplay' script by Carl Mayer with Murnau's handwritten annotations (150 pages in pdf format)
68-page illustrated booklet with numerous essays including a new reprint of a piece by Dudley Andrew
The new cover-design is based on the original 1927 art-deco poster design.
[ad]
ALSO OUT
Awaydays (Optimum)
Banana Splits Season 1 (Warner)
Battlestar Galactica: The Complete Series (Universal Playback)
Big Man Japan (Revolver)
Blue Dragon Volumes 5 & 6 (Manga)
Bring It On: Fight to the Finish (Universal)
Chéri (Pathe)
Death of a Ghost Hunter (Brain Damage Films)
Desperate Romantics (2 Entertain)
Doctor Who: The Keys of Marinus (2 Entertain)
ER Season 15 (Warner)
Fast & Furious (Universal)
Goddess (Devi)
Goth: Love of Death (4 Digital Asia)
Guyver: The Bioboosted Armor Collection (Manga)
La Tête contre les murs (Eureka/Masters of Cinema)
Messengers 2: The Scarecrow (Icon)
Portrait of a Miner: National Coal Board Collection Volume 1 (BFI)
Prey for the Beast (Brain Damage Films)
Secrets of the Clown (Brain Damage Films)
Serum (Brain Damage Films)
Sick Nurses (Revolver)
Silent Bloodnight (Brain Damage Films)
Star Wars: Clone Wars Volume 2 (Warner)
State of Play (Universal)
Supernatural Season 4 Part 2 (Warner)
The Man Without A Past (ICA)
The Paul Newman Collection Volume 2 (Warner)
The September Issue (Momentum)
Torture Me No More (Brain Damage Films)
Two Daughters (Mr. Bongo)
Unarmed But Dangerous (Anchor Bay)
[ad]
> Browse more DVD Releases at Amazon UK and Play
> Check the latest DVD prices at DVD Price Check
> Take a look at the current UK cinema releases (W/C Friday 18th September)