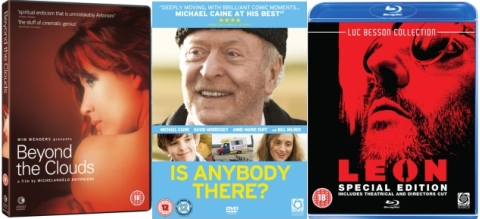 DVD & BLU-RAY PICKS
Beyond the Clouds (Second Sight): Near the end of his professional career in 1995, Michelangelo Antonioni embarked on this co-project with Wim Wenders, an erotic drama based on his own short stories, which includes four tales linked by a director (John Malkovich) in search of his next picture.
Taking place in Ferrara, Portofino, Aix en Provence and Paris, each story features a woman at the centre of the story and the cast features Sophie Marceau, Irene Jacob, Fanny Ardant, Jean Reno, Vincent Perez, Peter Weller, Marcello Mastroianni and Jeanne Moreau.
Included on this release is 'To Make A Film Is To Be Alive' a 52 minute documentary and an audio essay by Seymour Chatman (author of Antonioni: The Complete Films), along with a with production stills gallery.
Although not in the same league as Antonioni's very best work, it is a fascinating project with some marvellous visuals, aided by an evocative score featuring memorable contributions from Brian Eno and U2 (aka Passengers).
Is Anybody There? (Optimum): Set in a sleepy British seaside town in the 1980s, this drama tells the story of a morbid, bookish 10-year-old boy Edward (Bill Milner) who becomes increasingly obsessed with the afterlives of the residents of the old peoples' home which his parents run, until he is distracted by the arrival of 'The Amazing' Clarence (Michael Caine), an anarchic retired magician and grieving widower who is determined to age disgracefully.
Available on DVD and Blu-ray, the extras include:
Interview with Michael Caine
Interview with John Crowley
Interview with Bill Milner
Interview with Ann-Marie Duff
Theatrical Trailer
TV Spots
Leon (Optimum): The Blu-ray release for Luc Besson's 1994 thriller is part of a bunch of releases for the French director. Given the lacklustre quality of his recent output, it is worth revisiting this sharply written tale of a French hitman (Jean Reno) in New York befriending a young girl (Natalie Portman), whose family have been killed by corrupt cops (led by a splendidly nutty Gary Oldman).
Although the HD transfer has got mixed to negative reviews, the quality of the film makes it worth buying as it probably won't get a re-release for a while.
The extras and technical specs are:
Theatrical & Director's Cut Versions
1080P 2.35:1 Widescreen
English 5.1 DTS-HD Master Audio & 2.0 Stereo LPCM
Optional English subtitles (only on Director's Cut)
Jean Reno – The Road to Leon
10 year making of retrospective
Natalie Portman – Starting Young
Trailer
[ad]
ALSO OUT
Angels & Demons (Sony)
Bundy: A Legacy of Evil (Lionsgate)
Crank 2: High Voltage (Lionsgate)
Diary for My Children (Second Run)
Entourage Season 5 (HBO)
Knight Rider (2008) Season 1 (Universal Playback)
La Belle Captive (Second Sight)
Lie to Me Season 1 (Fox)
Massive (2 Entertain)
Sexy Killer (Momentum)
Splinter (Anchor Bay)
That Sinking Feeling (2 Entertain)
The Butterfly Effect 3: Revelations (Icon)
Two Pints of Lager and A Packet of Crisps Series 8 (2 Entertain)
> Browse more DVD Releases at Amazon UK and Play
> Check the latest DVD prices at DVD Price Check
> Take a look at the current UK cinema releases (W/C Friday 11th September)