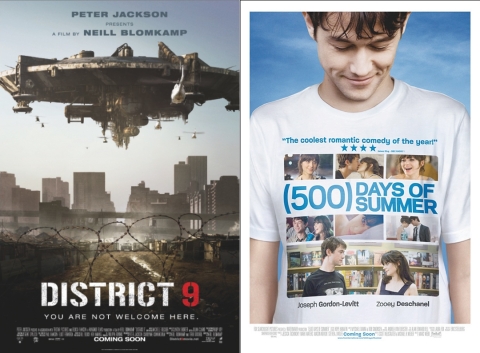 [ad]
NATIONAL RELEASES
District 9 (Sony Pictures): One of the surprise films of the summer is this sci-fi action film directed by Neil Blomkamp and produced by Peter Jackson. The premise is Independence Day in Johannesburg with a twist – here the government and military are oppressing visiting aliens (dubbed 'prawns') who are herded into refugee camps.
Based on a short film Blomkamp had previously made, it starts as a mock-documentary following a government supervisor (Sharlto Copley) as he tries to move the aliens out of their camps but soon turns into something else after things take an unexpected turn.
A clever and engaging premise is helped by a convincing central performance by Copley and some marvellous visual effects by WETA which really bring the aliens to life, especially in the daytime sequences. Although the transition between the faux-documentary approach and shoot-em-up actioner isn't always successful there is enough energy and thought here to make this one of the best films of its type in the last couple of years.
Made a comparatively modest for $30 million, the project came about after Jackson's plans for Halo film with Blomkamp fell through and they chose to expand his 2005 short film Alive in Joburg and film it in South Africa. QED International fully financed the production, underwriting the negative cost, and Sony acquired the distribution rights (under the TriStar Pictures banner) for the US, UK and other key territories.
After screening at Comic-Con, the buzz began to build in earnest and a savvy marketing campaign (along with a certain 'ooh, what's this?' factor) meant that the film hit the top spot at the US box office. Sony can expect similar box office returns here and it would be a shock if it didn't get to number 1 this week. [London & Nationwide / Cert 15]
(500) Days of Summer (Fox): An indie romantic comedy directed by Marc Webb about a woman (Zooey Deschanel) who doesn't believe true love exists and a young man (Joseph Gordon-Levitt) who falls for her.
The narrative is presented out of sequence, with each scene being introduced by which of the 500 days it is. The film got mostly positive reviews when it opened in the US back in July and although more naturally sour UK critics will be less embracing it could do decent business amongst audiences not fancying District 9.
Fox Searchlight did a decent job releasing it Stateside (where it grossed $25 million on a production budget of $7.5m) and Fox here can expect decent returns despite the lack of major star power. [Odeon West End & Nationwide / Cert 12A]
[ad]
IN LIMITED RELEASE
Big River Man (Revolver Entertainment): A documentary that follows the Slovenian ultra marathon swimmner Martin Strel, as he attempts to cover 3,375 miles in what is being billed as the world's longest swim. Strel previously completed record swims in the Danube, Mississippi and Yangzte rivers and holds several Guinness World Records. [London & Key Cities / Cert 15]
Bustin' Down The Door (Metrodome): Surfing documentary directed by Jeremy Gosch which chronicles the rise of professional surfing in the early 70s. [BFI Imax London / Cert 15]
Passchendaele (High Fliers Films): A Canadian war film written, directed by and starring Paul Gross which focuses on the experiences of his grandfather, Michael Dunne, a soldier who served in the 10th Battalion, CEF in the First World War at the Battle of Passchendaele (also known as the Third Battle of Ypres). [Odeon Panton Street / Cert 15]
Red Baron (Showbox Entertainment): A German biopic about the legendary World War I fighter pilot Manfred von Richthofen (Matthias Schweighöfer), directed by Nikolai Müllerschön. [Apollo Piccadilly Circus / Cert 12A]
Tricks (New Wave Films): Poland's entry for this year's Oscar for Best Foreign Film is a drama about a family in a sleepy provincial town from director Andrzej Jakimowski. [Key Cities / Cert 12A]
Greek Pete (Peccadillo Pictures): A semi-improvised drama about a group of London rent boys, directed by Andrew Haigh. [Shortwave Cinema (SE1) & Key Cities / Cert 18]
> UK Cinema Releases for September 2009
> DVD & Blu-ray picks for this week including Encounters at the End of the World, Battle of Algiers and The Damned United (W/C Monday 31st August 2009)