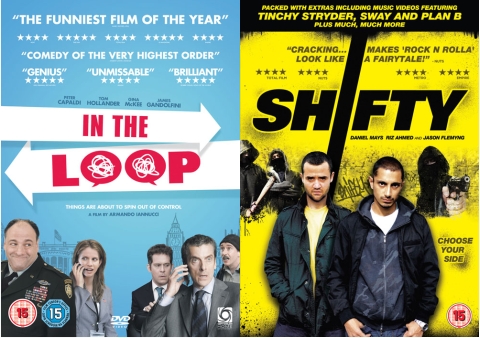 [ad]
DVD & BLU-RAY PICKS
In The Loop (Optimum): The directorial debut of Armando Iannucci is a marvellous political satire exploring the the inner mechanics of the 'special relationship' between London and Washington in the build up to a war in the Middle East.
The plot follows government officials and spin doctors in their behind-the-scenes efforts either to promote the war or prevent it. The cast is excellent with fine performances from Tom Hollander, James Gandolfini, Chris Addison, Peter Capaldi, Anna Chlumsky, Gina McKee, Steve Coogan and David Rasche.
The hilarity of the comedy is only matched by the political savvy of Iannucci's script which ultimately reveals some sad truths about the craven subservience of Tony Blair's government to the Bush administration in the build up to the Iraq war.
Extras on the DVD include:
Deleted Scenes
Audio commentary with cast & director
Interview with Gina McKee & Chris Addison
Interview with Tom Hollander
Interview with Peter Capaldi
Interview with director Armando Ianucci
Script to Scene Comparison
Trailer
Webisodes
On Blu-ray the film is presented in 1080P Widescreen with English 5.1 DTS-HD Master Audio, English 2.0 PCM Stereo, English Audio Description and English HOH subtitles (film only). The disc is coded for Region B.
Shifty (Metrodome): A low budget urban thriller from writer/director Eran Creevy set on the outskirts of London, where it follows themes of friendship and loyalty over the course of 24 hours in the life of a young drug dealer, the charismatic "Shifty".
is a new British film about a young drug dealer (Riz Ahmed) in a town just outside London who sees his life spiral out of control when his best friend (Daniel Mays) returns home.
Directed by Eran Creevy and co-starring Jason Flemyng and Francesca Annis, it was funded by Film London's Microwave scheme and shot in just 18 days.
Available on DVD, Blu-ray Disc and a 2-disc HMV Exclusive DVD, the features are outlined below:
Disc 1 Extras
Commentary with Writer/Director Eran Creevy & Riz Ahmed (Shifty)
The Making of SHIFTY
Behind The Scenes
Deleted Scenes
'Shifty' soundtrack by MC Riz, Sway & Plan B – music video
'Number One' by Tinchy Stryder Ft. N-Dubz – music video (from the producers of Shifty)
Eran Creevy's commercials
Shifty soundtrack sampler
Theatrical Trailer
Disc 2 Extras (HMV Exclusive)
Over 100 minutes of Extended Interviews with Cast & Crew
Riz Ahmed, Sway, Plan B: SHIFTY (Uncut Version)
Scene Storyboards – See How The Key Scenes Were Brought To Life By The Filmmakers
The Complete SHIFTY Script
The Blu-ray has the 1-Disc extras.
*Listen to my interview with Eran Creevy and Daniel Mays*
[ad]
ALSO OUT
13: Game of Death (Revolver)
All the Right Noises (BFI)
Delta (ICA)
East of Ipswich (2 Entertain)
From Within (E1 Entertainment)
Herostratus (BFI)
I Love You, Man (Paramount)
Ichi (Manga)
It Ain't Half Hot Mum Series 7 (2 Entertain)
Man of Violence (aka Moon) (BFI)
Naruto Unleashed Series 7 Part 1 (Manga)
New Tricks Series 5 (Acorn)
Nous ne Vieillirons Pas Ensemble (Eureka/Masters of Cinema)
One Last Thing (Fremantle)
Passe ton bac d'abord (Eureka/Masters of Cinema)
Race to Witch Mountain (Disney)
Three Men in a Boat (2 Entertain)
> Browse more DVD Releases at Amazon UK and Play
> Check the latest DVD prices at DVD Price Check
> Take a look at the current UK cinema releases (W/C Friday 21st August)