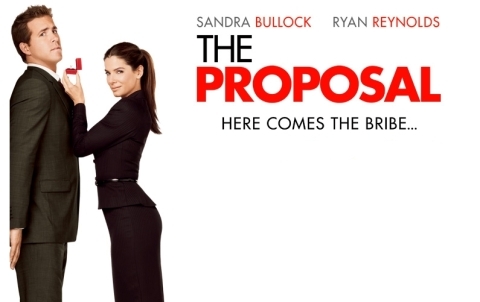 NATIONAL RELEASES
The Proposal (Walt Disney): A romantic comedy starring Sandra Bullock and Ryan Reynolds is the only big nationwide UK release this week.
Bullock plays a high-powered book editor threatened with deportation to her native Canada, who manages to force her weary assistant (Reynolds) to pretend that they are engaged to be married so she can stay in the US.
Directed by Anne Fletcher and written by Pete Chiarelli, it did solid business in the US last month despite the mixed reviews.
Although the latest Harry Potter is still casting a spell over audiences, given the lack of direct competition this weekend, this comedy vehicle looks odds on to appeal to undemanding female cinema goers. [Odeon Leicester Square & Nationwide / Cert 12A/ Opened on Weds 22nd]
[ad]
IN LIMITED RELEASE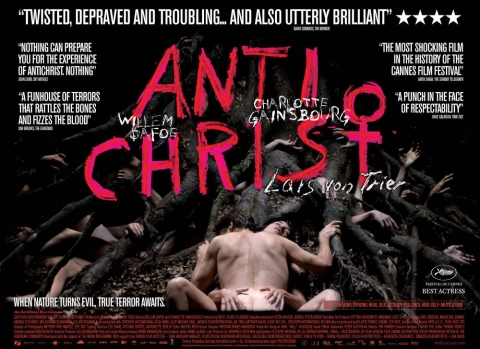 Antichrist (Artificial Eye): The latest film from Danish director Lars Von Trier arrives in the UK on a tidal wave of controversy after causing a big stink at Cannes back in May.
The setup is quite simple – a married couple (Willem Defoe and Charlotte Gainsbourg) retreat to a cabin in the woods after the death of their child.
What happens afterwards is rather more extreme as things spiral out of control and audiences are treated to scenes that range from graphic sequences of sexual mutilation to one with a talking fox.
Although many critics at Cannes were appalled at the film, Artificial Eye bought UK distribution rights and have cleverly positioned it as a film the chattering classes must see due to 'outrage' over the graphic violence and alleged misogny.
The fact that Brian Appleyard of The Sunday Times seemingly lost his mind after seeing it and Christopher Hart of The Daily Mail did likewise despite not seeing it, was not only funny but deeply ironic – publicity like this is usually very expensive.
Art-house business is likely to be brisk over the weekend and the film is likely to turn a decent profit worldwide – especially on DVD – due to its already infamous reputation. [Chelsea Cinema. C'World Haymarket, Curzon Soho, Renoir & Key Cities / Cert 18]
[ad]
Just Another Love Story (Revolver Entertainment): Another Danish film (two in one week is rare), although this one is about less contentious subject matter. A crime photographer is involved in a car crash with a stranger and things take an unexpected turn when she wakes up with amnesia. Directed by Ole Bornedal. [Key Cities / Cert 18]
Skin (ICA Films): Based on the true story of a black girl who was born to two white Afrikaner parents in South Africa during the apartheid era, this drama stars Sophie Okonedo and Sam Neill and was directed by Anthony Fabian. [ICA Cinema & Key Cities]
Charles Dicken's England (Guerilla Films): A documentary presented by Sir Derek Jacobi about the famous Victorian writer which is getting a brief theatrical run before being broadcast on the Sky Arts TV channel in two parts. [Sheffield, Malton, Bradford, Rochester & Key Cities / Cert U / BFI Southbank from 21st July]
The Blues Brothers (Universal): A re-issue for the 1980 comedy would appear to be a strange move for Universal but given its cult status and the fact that younger audiences might not have seen it, makes sense. Directed by John Landis, it stars John Belushi and Dan Aykroyd as two brothers 'on a mission from God' as they try to save their orphanage. Featuring many R&B and soul legends like James Brown, Cab Calloway, Aretha Franklin and Ray Charles, it still has an energetic charm which hasn't faded after nearly 30 years. Watch out for the cameo by Steven Spielberg. [Cineworld Haymarket & Nationwide / Cert 15]
Once Upon A Time In The West (bfi Distribution): Sergio Leone's classic 1969 spaghetti Western stars Henry Fonda in a rare villainous role, whilst Charles Bronson plays his nemesis. Jason Robards and Claudia Cardinale also have key roles and the widescreen cinematography by Tonino Delli Colli and music by Ennio Morricone are superb. Definitely worth catching on a big screen if you can. [BFI Southbank, Curzon Mayfair & Key Cities]
[ad]
> UK cinema releases for July 2009
> DVD Picks for this week including John From Cincinnati, Cadillac Records and Man of Iron (W/C Monday 20th July)