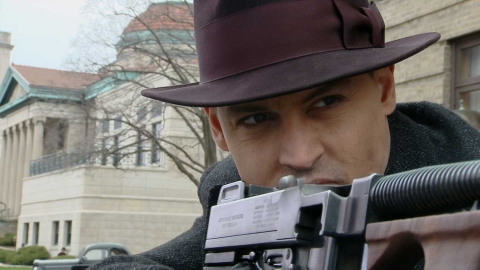 Public Enemies left me with that particular kind of disappointment you feel when you see a great director fall short of his own high standards.
Based on Bryan Burrough's non-fiction book 'Public Enemies: America's Greatest Crime Wave and the Birth of the FBI, 1933–34', it explores the FBI's attempts to capture the gangsters who are robbing banks all across the Midwest during the Great Depression.
The focus is on John Dillinger (Johnny Depp), his girlfriend Billie Frechette (Marion Cotillard) and Melvin Purvis (Christian Bale), the federal agent entrusted with catching him.
For director Michael Mann, this is familiar territory featuring many of his favourite themes: crime, extreme conflict, good and evil, obsession and the male psyche.
Given that this film saw him re-teaming with cinematographer Dante Spinotti (who he has collaborated with several times on films such as Manhunter, Heat and The Insider) you could also be forgiven for thinking that a visual feast would be in store.
But sadly Public Enemies never really catches fire and curiously it is largely down to the visuals and the acting – things which Mann is famous for getting right.
Like his last two films, Collateral and Miami Vice, Mann has opted to shoot with high end digital cameras (principally the Sony F23 and some smaller cameras).
Although this creates some interesting sequences (especially those set at night), it also leads to others which just look odd, especially when you see occasional bright flaring and sudden movements which the camera doesn't quite catch.
Some directors like smaller and lighter digital cameras because they can shoot in smaller spaces, often with greater speed.
In Public Enemies this has the effect of putting you 'in the scene' in the action sequences and it has clearly been Mann's intention to create a new visual aesthetic.
But the main problem here, as in his two previous films, is that the images here lack the richness and vibrancy of Mann's earlier work on 35mm film.
In some ways this film also marks the end of a decade in which Mann has increasingly retreated into his own head. All of his films since 2000 have lacked the weight and stunning craftsmanship of his best work on Manhunter, Heat and The Insider.
Another aspect of the film that is puzzling is the casting of Johnny Depp as Dillinger. Although he can be a brilliant technical actor and a charming screen presence, he gives a Dillinger an aloof coolness here which I find hard to square with the real life criminal.
Christian Bale on paper sounded a fantastic choice to play his lawman nemesis too, but he also seems restrained and lacking in the intensity you might expect given the pressure he was under.
Marion Cottilard brings some emotional substance in the often neglected 'gangster's moll' role, even if her accent sometimes fluctuates here and there.
There are some fine performances, although frustratingly the best stuff comes from the supporting cast with the likes of Billy Crudup, Giovanni Ribisi, Stephen Graham and Stephen Lang offering tantalising glimpses of the film this could have been.
As you might expect for a Mann film the production design is excellent, with great use of a variety of locations in Wisconsin, Illinois and Indiana.
But despite these qualities Public Enemies never hits the high notes you would expect given the potential of the material and the talent involved in bringing it to the screen.
Universal deserve a lot of credit for being the Hollywood studio most likely to take risks on more adult material and filmmakers like Mann, but opening this film in the height of summer is going to be a real test for them.
They have sold it on Johnny Depp's star power (greatly increased since the Pirates of the Caribbean trilogy) but I find it hard to see it making serious money and it may even struggle to recoup its $100 million budget back.
In fact, if this film does badly it may give a lot of studio executives an excuse to no longer green-light similar projects, especially as some of them are probably doubting how much stars are now worth in terms of box office dollars.
I actually hope it does do well because in a time of turgid studio fare such as Transformers 2 and Terminator Salvation, Hollywood needs directors like Michael Mann and mainstream films that cater to more than just the popcorn munchers.
But on the other hand Mann needs to return to the form that made him such an important filmmaker.
Given that the economic model for Hollywood is slowly breaking, maybe a return to lower budgets (along the lines of Stephen Soderbergh) would give him the creative rejuvenation he needs.
> Official site
> Read other reviews at Metacritic
> Find out more about John Dillinger at Wikipedia