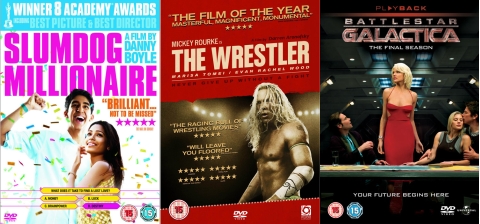 DVD PICKS
Slumdog Millionaire (Pathe): In the spring of 2007 director Danny Boyle told me that his next film would be set in Mumbai and was the story of a young man on the Indian version of Who Wants to Be a Millionaire. But it was only afterwards that I started to wonder. Would the film be made in English? Would it be a Bollywood film? Comedy? Drama?
It is a testament to the final film that Slumdog Millionaire is so many different things – a vibrant and rich journey through modern India through the lens of a Dickensian tale of love and redemption. Adapted by Simon Beaufoy from the novel Q and A by Vikas Swarup, it deservedly received a lot of buzz and acclaim at the Telluride and Toronto film festivals.
What's interesting is that the narrative plays a little like The Usual Suspects, as we learn how the central character Jamal (Dev Patel) came to be on the game show. It then flashes back to periods of his life growing up as a kid from the slums (or 'slumdog' as some less than charitable characters in the film put it) and his desire to find the true love of his life (Frieda Pinto).
Boyle and his cinematographer Anthony Dod Mantle don't shy away from the poverty of the slums in the film but also capture the live wire energy of Mumbai with some inventive use of digital cameras and a cracking soundtrack. Whilst some audiences might be a bit taken aback by some of the darker sequences, they are necessary counterweights for others aspects of the story to really work.
A huge amount of credit must go to Beaufoy who has constructed a jigsaw puzzle narrative that somehow manages to hold everything together in a way that is exciting, clever and moving. Another clever touch is the realistic portrayal of the Who Wants To Be A Millionaire show, complete with the right music and graphics which are expertly woven into the film and play a key part in how the story unfolds.
The cheesy tension of the TV show somehow has a new life here, with added meaning on the tense pauses and multiple choice questions. The film deservedly cleaned up at this year's Oscars taking home 8 awards including Best Picture and Best Director.
Both the DVD and Blu-ray version offer more than three hours of special features, including commentaries, featurettes and deleted scenes.
DVD and Blu-ray Extras:
Commentary from director Danny Boyle and Dev Patel
Commentary from producer Christian Colson and writer Simon Beaufoy
Deleted Scenes
Slumdog Dreams: Danny Boyle and the making of Slumdog Millionaire
Jai Ho Remix – Slumdog Cutdown
UK Theatrical Trailer
Additional Blu-ray only special features:
Slumdog Guru – an interactive option of watching the film that gives the viewer access to special features directly from the film. Contains exclusive picture in picture interviews.
From Script to Screen: The Toilet Scene
Indian Short Film: Manjha
Bombay Liquid Dance
* Listen to my interview with Danny Boyle about Slumdog Millionaire *
[ad]
The Wrestler
(Optimum): On first hearing about a film where Mickey Rourke plays a has-been, directed by Darren Aronofsky, I was intrigued. Would it be similar to the director's previous films like 
π and
Requiem for a Dream
? And what would Mickey Rourke be like in his first proper leading role for many years?
For Aronofksy it is a major – but welcome – departure in that it eschews many of the stylistic devices of his earlier work in favour of a raw, stripped down approach. For Rourke it is nothing less than a triumphant comeback: a dream role that proves not only what a fine screen actor he can be, but also atones for the chaos of his professional career over the last 20 years.
The film itself is the story of a big time wrestler from the 1980s called Randy 'The Ram' Robinson, who has fallen on hard times and wrestles on the weekends in independent and semi-pro matches for extra money. Health problems force him to re-evaluate his life which includes working in a deli, a possible relationship with a stripper (Marisa Tomei) and an attempted reconciliation with his estranged daughter (Evan Rachel Wood).
The parallels between Rourke's own career and that of his character are there for anyone to see but there is more to the film than just brave casting: it paints a moving yet unsentimental view of outsiders struggling to make it in modern America. The world of semi-pro wrestling is also brought to life with remarkable authenticity. Although the theatricality and hype of the WWF dominates the public perception of wrestlers, the realism on display in this story creates a much more authentic and poignant world.
A lot of the film's charm rests on Rourke and Tomei, who play two contrasting characters who actually have much in common: both are performers who use their bodies and have problems reconciling their double lives. Rourke scooped Best Actor at the BAFTAs and Indie Spirit Awards, where he delivered hilarious acceptance speeches, but lost out on the Oscar to his old buddy Sean Penn.
Extras include:
A making of documentary (Within The Ring, 42mins)
Interview with Mickey Rourke (16mins)
Theatrical trailer.
The DVD will be presented in 2.35:1 anamorphic widescreen with English DD5.1 Surround, English DD2.0 Stereo and English subtitles.
* Listen to my interview with Darren Aronofsky and Mickey Rourke *
Battlestar Galactica: The Final Season (Universal Playback): The final stretch of this modern sci-fi series comes to DVD in the UK with the second half of Season 4 branded 'The Final Season'. A four-disc set, episodes are spread across the first three presented in 1.78:1 anamorphic widescreen with English DD5.1 Surround audio, English DD2.0 Stereo audio and English SDH subtitles.
The 11 episodes on four discs are:
Disc One
Sometimes A Great Notion
A Disquiet Follows My Soul
The Oath Blood On The Scales
Disc Two
No Exit
Deadlock
Someone To Watch Over Me
Islanded in a Stream of Stars
Disc Three
Daybreak Part 1
Daybreak Part 2
Daybreak Part 3
These discs also have podcast commentaries and deleted scenes on select episodes. The fourth disc contains featurettes and the unrated version of A Disquiet Follows My Soul.
All extras (except for the commentaries) are subtitled in English SDH.
Extras include:
Deleted Scenes: Sometimes A Great Notion, The Oath, Blood on the Scales, No Exit, Deadlock, Someone to Watch Over Me, Daybreak
Podcast Commentary: Sometimes A Great Notion, A Disquiet Follows My Soul, The Oath, Blood On The Scales, No Exit
A Sneak Peek at Caprica (1:32)
David Eick's Video Blogs (x11)
What the Frak is Going on with Battlestar Galactica? – A recap of Battlestar Galactica's first three seasons (8:17)
Evolution of a Cue: Composer, Bear McCreary takes us step by step through his process of creating the music of Battlestar Galactica (22:13)
Unrated/Extended Episode: A Disquiet Follows My Soul (50:54)
Anvil Trailer, Playback Trailer
[ad]
ALSO OUT
Blue Dragon: Volumes 1 & 2 (Manga)
Boccaccio '70 (Mr. Bongo Films)
Goto l'ile d'amour (Nouveaux)
How Not To Live Your Life (2 Entertain)
Primeval Series 3 (2 Entertain)
Reggie Perrin (2 Entertain)
Shallow Grave (4DVD)
The London Box-Set (Optimum)
Trainspotting (4DVD)
> Browse more DVD Releases at Amazon UK and Play
> Check the latest DVD prices at DVD Price Check
> Take a look at the current UK cinema releases (W/C Friday 29th May)