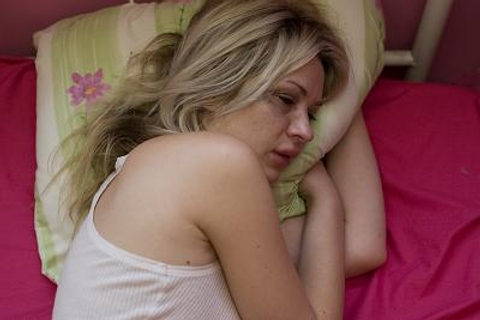 Fish Tank is the second film by British director Andrea Arnold and is also her second visit to Cannes after she went home with the Jury Prize for Red Road in 2006.
Her latest is about a rebellious English teenager (Katie Jarvis) who's life appears like it could change for the better when her mother's new boyfriend (Michael Fassbender) strikes a chord with her.
Here is a summary of the critical reaction, which appears to be largely positive.
Allan Hunter of Screen International thinks it is a strong second feature: 
"Andrea Arnold confidently navigates the pitfalls of the 'difficult' second feature with 'Fish Tank,' which confirms her status as a torchbearer for the social realist traditions of Ken Loach and the Dardenne brothers." 

"The heartbreaking tale of a teenage misfit has a grim inevitability to the plotting which is offset by Arnold's talent for multi-layered characters and naturalistic dialogue and her eye for finding the poetic moments in even the bleakest of lives."
Leslie Felperin of Variety praises it but also points out that the people it is about will probably not get to see it:
Brit helmer Andrea Arnold's sophomore feature offers such an entirely credible and – there's no way around it – grim portrait of a sullen teenage girl living in a rough housing project in England's Essex that it almost seems banal.

However, what makes pic feel special is its unflinching honesty and lack of sentimentality or moralizing, along with assured direction and excellent perfs.

Paradoxically, though immediately accessible to auds from the background depicted, "Fish Tank" is destined to swim only in arthouse aquariums, while likely adult-only ratings will keep teens – who really should see this – from getting in the door legally.

Only Catherine Hardwicke's 'Thirteen' and a handful of other films have dared to evoke so frankly the nature of teenage femme sexuality, as young women test their power with a mixture of precocity and naivete."
Peter Bradshaw of The Guardian is full of praise, especially for Jarvis and Fassbender:
Andrea Arnold's Palme d'Or contender is a powerful film of betrayed love in a bleak landscape, powered by fizzing performances from Michael Fassbender and newcomer Katie Jarvis.

Fish Tank is a powerfully acted drama, beautifully photographed by cinematographer Robbie Ryan, who intersperses bleak interiors with sudden, gasp-inducing landscapes like something by Turner.

Arnold takes elements of tough social-realist drama which are, if not cliches exactly, then certainly familiar — but makes them live again and steers the movie away from miserabilism, driven by a heartfelt central performance.

The performances of Jarvis and Fassbender are outstanding and their chemistry fizzes — and then explodes. It is another highly intelligent, involving film from one of the most powerful voices in British cinema.
Dave Calhoun of Time Out thinks that it is another chapter in the rise of Arnold as one of Britain's most significant new directors:
It's hugely satisfying to report that 'Fish Tank' shows Arnold going from strength to strength, offering new depths of filmmaking while at the same time building on a view of the world and a way of telling stories that are distinctly her own.

She also coaxes a performance of extraordinary emotion from young British newcomer Katie Jarvis.

'Fish Tank' is another intimate portrait of a female character living on the margins of a city."
Jeffrey Wells of Hollywood Elsewhere admires the film but is left cold by the themes: 
The chops in Fish Tank are accomplished and impressive. Arnold, who directed and wrote, knows exactly what she's doing — she's the real deal as far as having a voice and a vision of life is concerned.

I liked that she and cinematographer Robbie Ryan shot the film in 1.33, which is usually a result of an intention or a deal to air it on analog TV.

Fassbender, a very hot guy now, is natural and believable, charming and genuine. Ryan's hand-held camera work is unpretentious and the images are appropriately plain — i.e., naturally lit but not excessively grim.

It feels right all the way, in short, but it didn't leave me with much save the quality of the work.
Eugene Hernandez of IndieWIRE feels Katie Jarvis is a major new talent:
Jarvis's bio reads simply: 'Katie makes her acting debut in 'Fish Tank.'

Starring as Mia in every scene in 'Fish Tank,' Katie Jarvis is the first major acting discovery of the 2009 Cannes Film Festival."
The film (as Wells notes) was shot in the unusual 1:33 aspect ratio, which is rare these days outside of Gus Van Sant movies like Elephant, and can be seen in this clip:
The official festival site has video and audio from the press conference.
> Fish Tank at the IMDb
> Andrea Arnold at Wikipedia